FROM PRESS ROW: FUTURE LOOKS BRIGHT FOR AREA HOOPS TEAMS
(2021-12-28)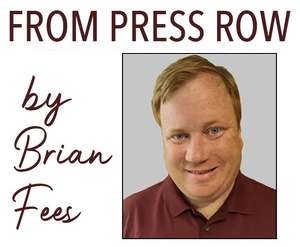 The future looks bright for area basketball teams, and the present doesn't look so bad either.
Area teams are finding a lot of success as the Corning and Horseheads boys are all unbeaten on the year and the Elmira girls have just one loss, to the fifth-ranked team in the state, and are ranked 13th in the state. Corning's girls started 5-0 before dropping their first game, to a state-ranked Hornell team, on Tuesday.
It's been an impressive start for area hoops teams, and what makes all of this even more impressive, and exciting, is that so many of the standout players this year are underclassmen.
Many of the year's best performances this year have come from players who aren't yet seniors, and that leads to what should be a very bright future in area basketball.
Team after team is loaded with underclassmen who are putting on shows this year.
Let's go team by team and look at the start of the season, and what the future looks like.
BOYS
HORSEHEADS:
The Blue Raiders are unbeaten to start the year and they are led by a group of underclassmen.
The top three scorers this year are a junior (Amauri Truax) and two sophomores (Jeremy Truax and Alex Daugherty).
The Blue Raiders are 4-0 this year and Amauri Truax has had a dominant beginning to the season. Amauri has 75 points in four games this year, averaging nearly 19 points a game.
CORNING:
The Hawks are a good balance of youth and experience.
They have gotten great play out of their seniors, with Landen Burch and Aidan Chamberlain among the best players in the region, and Nesu Maphosa playing a huge role in the Hawks perfect 5-0 start to the season.
While Corning has a lot of experience, no newcomer has made a bigger impact to start the year than Isaiah Henderson.
The 6-foot, 4-inch sophomore guard has been one of the best players in the area all season long. He leads the area with 104 points in five games, putting up more than 20 a contest to start the season.
Henderson isn't the only underclassmen making a big impact. Jackson Casey may not be scoring a ton of points, but few players play a bigger role in their teams success. He flirted with a triple double in a win over Johnson City, and he leads the area in assists.
He also comes up with big shots in big moments, hitting the game-tying buzzer-beating three to help the Hawks force overtime against Johnson City.
ELMIRA:
The Express are one of the most experienced teams in the area.
Seniors Seth Myles, Anthony Brooks, Xavier Jones, Tyler Marks and Mikey Middaugh have all been among the team's leading scorers this season.
Elmira is 2-3 on the year, but they have faced some top competition, with two of their losses coming out of Section 4 (at Cicero-North Syracuse and against East Rochester), and the other loss was to state-ranked Union-Endicott.
While Elmira is a senior laden team, they also have gotten some big performances by younger players. Junior Da'Mon Jackson recently had a 14-point game, while sophomores Chris Woodard and Tyre Daniel are starting to have big performances for the Express.
NOTRE DAME:
Like Elmira, the Crusaders are a senior-laden team, led by guard Steven Gough.
Notre Dame is 3-3 on the season. Gough leads the team with 92 points through six games, more than 15 points a contest. He's twice had 20-plus point games for the Crusaders.
Gough, Cam Johnson and Eric Bukowinski are all starters and standout players for Notre Dame.
In their last game Gough had 25 points against Dryden, and he's been one of the area's top scorers this year.
Notre Dame has seven seniors on the 12-man roster, and every player on the team is either a junior or senior.
While the team is more senior-laden than any other team in the area, they have had a couple of big efforts from underclassmen.
Junior guard Save Waters has provided scoring punch from the guard position, while six-foot, six-inch forward Maliki Owens has been a force inside for Notre Dame.
EDISON:
It's been a tough start record-wise for the Spartans, as they haven't won a game this year, but they have been playing better in recent games.
The Spartans have four seniors, including one of their top players, Tyler Belloma, but there is a lot of reason to be excited for the future.
Juniors George Smith and Evan Bush are both starters and among the best players on the team, while Riley Cobb and Blake Cobb are both sophomores making a big impact for Elmira Heights.
While the team does have the four seniors, they also have four sophomores on the roster, along with four juniors.
GIRLS
HORSEHEADS:
No girls team in the area has more seniors than the Blue Raiders.
Horseheads have six seniors on the team, including standout guard Carly Scott, the team's leading scorer. Scott, Alexis Guzylak, Eva Koratsis are all starters for the Blue Raiders.
While Horseheads is senior-laden, the biggest performance of the year may have come from a sophomore as Sophia Bonnell had 24 points on eight threes in a win over Waverly.
The Blue Raiders, who are 3-3 on the season, with two of their losses (Colonie and Maine-Endwell) coming against state-ranked teams.
Freshman Megan Wolf, along with Bonnell, are starters for the Blue Raiders and they've shown plenty of reason to be excited for the future, especially with the team also having another freshman, Emma Kamas, and another sophomore, Madisyn Matkosky, getting regular playing time this year.
CORNING:
After a 5-0 start to the year the Hawks dropped their first game of the year against state-ranked Hornell on Tuesday.
The Hawks have had a balanced attack all season long. While senior Kellie Zoerb has been one of the team's best scorers, the other top scorers for the team are all underclassmen.
Juniors Jenna DiNardo and Alyssa Dobson have had big starts to the year for Corning and sophomore Hannah Nichols is starting to provide a big scoring punch for the Hawks.
Dobson has 101 points in six games this year, averaging nearly 17 points a game.
With three of the four top scorers all being underclassmen, the Hawks could be strong for a long time.
ELMIRA:
The Express are 5-1 on the year, with their only loss coming to Bishop Kearney on the road. Kearney is ranked fifth in the state.
Elmira is the 13th ranked class AA team in the state.
The team are led by the combination of Jalea Abrams and Megan Fedor, a junior and a senior.
Abrams had the best scoring performance in the area this year, by any player boys or girls, when she had 40 points, one off the school record, held by her older sister Zaria Thomas. She also had seven threes, two off her sister's school record.
Fedor has been ad dominant force inside for the Express and fellow senior Lauren Miller has also been a force inside for the Express.
Four of the top five scorers on the team are seniors, but the future still looks extremely bright for Elmira.
While Fedor averages 15.8 points and 10.8 rebounds a game this year, and Miller scores nine points a game with 4.5 rebounds a contest, no player in the area is scoring more than Abrams.
The Elmira guard is averaging 23 points a game this year, along with 2.3 steals, 3.8 rebounds and 2.2 assists a game.
Juniors Payton Ross and Ja'Nyah Harris are playing signifiant minutes this year, and sophomore Laila Burchard made her varsity debut recently and came up with some key free throws in a two-overtime win over Norwich.
While the Express will lose five players to graduation, they will have one of the best players in Section 4 back next year.
NOTRE DAME:
The Crusaders are sitting at 4-2 this year, and they are dong that with no seniors on the roster.
Shannon Maloney has been a dominant force for the Crusaders this year. She has 126 points in six games this year, averaging more than 20 points each game.
Junior Lawson Bigelow just had a 25-point game for the Crusaders in their last game, a career-high for the post player and the team has six juniors, two sophomores and two freshman on the roster. Allie O'Brien and Maddie Fargo, along with newcomers Payton Miller and Kate Welliver have been key players for the Crusaders.
EDISON:
There are few sophomores who are as productive as Payton Littlefield has been.
The guard has scored in double figures every game this year, and she's been a standout scorer for the Spartans since she was in eighth grade.
The team also has junior Gianna McGee, who has battled injuries this year, but when healthy is one of the best players in the IAC.
Seniors Lexi Moore and Maren Lutz have both been standout starters for the Spartans, and they have three seniors on the team.
Add in sophomores Mariana Jones, Gabby Milazzo and Harper Hoffmann and the future looks bright for the Spartans.