NEW YORK STATE FOOTBALL: CORNING FALLS, 20-16, TO C-NS IN CLASS AA QUARTERFINALS (24 PHOTOS)
(2021-11-20)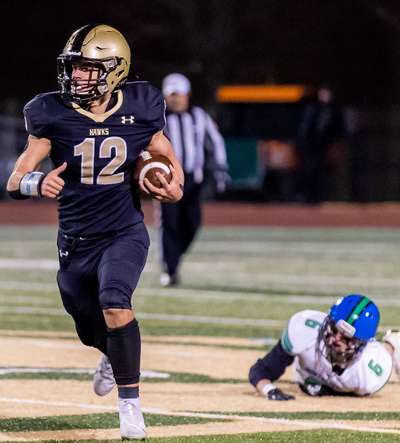 By CAM CARLISLE
Southern Tier Sports Report
VESTAL —Cicero-North Syracuse scored early in the fourth quarter to take its first lead of the game, then held on for a 20-16 win over Corning in the quarterfinals of the New York State, Class AA football playoffs here Saturday at Vestal High School's Dick Hoover Stadium.
Junior Logan Booker led the Hawks with 201 yards and one TD on 21 carries, and senior Mason Smith rushed for 64 yards on 14 carries, while senior Landen Burch completed 3 of 6 passes for 64 yards and one TD.
Most of the scoring in the contest took place in the first quarter, with Corning drawing first blood. The Hawks only needed one play to find paydirt on its first possession as Booker took it to the house on a 48-yard scoring run. Dillon Kennedy's run for conversion gave Corning an 8-0 lead just 79 seconds into the contest.
The Northstars answered back on first next possession. During the drive, Jaxon Razmovski completed 6 of 6 passes for 70 yards. Razmovski capped the drive with a 1-yard QB sneak for the score to cut the deficit to 8-6 with 6:23 left in the first quarter.
The Hawks, however, quickly built its lead to the double-digits with a rapid six-play drive, capped by a 36-yard TD pass from Burch to Jack VanWoert. Booker punched in the 2-point conversion to extend Corning's lead to 16-6 with 3:51 remaining in the opening stanza.
C-NS once again responded with a quick scoring drive.
Razmovski and Josh Kubala connected on a 56-yard TD pass and catch to trim the deficit to 16-13 with 3:09 remaining in the first quarter.
Neither team would put together a scoring drive in the second or third quarter, with both compiling a mix of punts, turnovers on downs, interceptions and a fumble.
The Northstars' go-ahead drive took place at the outset of the fourth quarter. It started with Ibrahim Farouk ripping off a couple of lengthy runs — the first for 21 yards and the next for 56 yards into the Corning red zone.
Anthony Testa followed with a 13-yard run, and finished off the possession with a 4-yard TD run with 9:53 to give C-NS a 20-16 lead.
C-NS's defense came through in the clutch in the second half. The Northstars forced Corning to turn it over on downs on three separate occasions, two of which came after their go-ahead score.
Razmovski completed 16 of 20 passes for 184 yards and a TD. Kubala had three catches for 79 yards and a TD, and Ellis caught six passes for 57 yards.
The Hawks finished their 2021 season with an 8-2 record.
——————
IN PHOTO 1: Corning's Logan Booker. … PHOTOS BY DAVID ALLIGER — TRAVELING PORTRAITS.