FROM PRESS ROW: EDISON'S LUTZ, ELMIRA'S ROSE NAMED ATHLETES OF WEEK; UNSUNG HEROES, BREAKOUT STARS NAMED
(2021-10-26)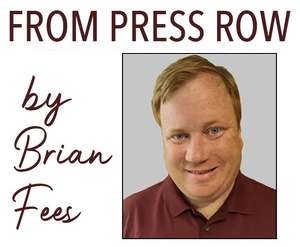 As teams head into the postseason the strong performances are coming day after day by area athletes.
We pick another week of athletes of the week, unsung heroes and breakout stars.
ATHLETES OF WEEK
MAREN LUTZ, EDISON VOLLEYBALL
This week the Edison volleyball team wrapped up the IAC division title.
It's been a great year for the Spartans, and while they have had a balanced roster all season long, Lutz had a strong week for Edison.
In the match against Watkins Glen where the Spartans wrapped up the title Lutz had 10 assists, five kills and two points for the Spartans.
She started the week with seven points and seven aces, along with two kills in a win over Waverly that helped them inch toward the title. And in a non division matchup against Newfield the Edison standout did a bit of everything racking up four points, two aces, seven kills, nine assists and two blocks.
JACOB ROSE, ELMIRA, BOYS' SOCCER
It's hard to beat a soccer team when no one ever scores on them.
That's what the Elmira boys have done this season as game after game they pitch shutouts.
Last week it was against Horseheads as neither team could score through regulation and 30 minutes of overtime, bringing things to a shootout.
Rose shutout the Blue Raiders for 110 minutes in regulation and then he allowed just one goal in the shootout and iced things with a diving stop on a penalty kick.
The Express have allowed just three goals since Sept. 18, and one of those goals came after Rose left the net with an injury in a game.
UNSUNG HEROES
NOTRE DAME GIRLS' SOCCER DEFENSE
It's hard to pick just one player to single out for the Crusaders.
Whether it's Amanda Simpson or Ella Chicone. Or maybe it's Shannon Maloney in goal, or one of the other defenders, or midfielders, the Crusaders defense works as a unit to keep other teams off the board.
In the sectional quarterfinals the Crusaders fell behind 1-0, and their midfield dominated limit the chances for Union Springs.
In the shootout Maloney allowed just one shot by as the Crusaders won in the shootout to advance.
Notre Dame is ranked eighth in the state and their defense is a big reason why.
LANDON BURCH, CORNING, FOOTBALL
Burch may not put up gaudy numbers, but he's been a steady force for the Hawks this season.
He doesn't put up big passing, or rushing totals, but he seems to come up with big plays when they matter most.
In a win over Elmira on Saturday Burch completed two passes, but one of them was a key fourth-down competition to help the Hawks score a touchdown.
Burch has proven this year he can pick up big yards with his feet, or with his arm, and he's shown it in big spots for Corning.
BREAKOUT STARS
TYLER JOHNS, HORSEHEADS, FOOTBALL
All season long Horseheads coach Kevin Hillman has looked for balance in the offense.
In recent weeks new faces have stepped up into strong roles for the Blue Raiders and on Friday it was Tyler Johns.
The Horseheads junior caught three passes for 47 yards in the game, hauling in all three of the team's completions.
Johns had a key catch for the Blue Raiders on their second touchdown drive.
On defense Johns added three tackles.

ANNA MORDVINOVA, ELMIRA, CROSS COUNTRY:
All season long Mordvinova has run well, but on Saturday at the STAC Championships she had perhaps her best day of the year.
Mordvinova finished third overall in the girls race with a time of 19:15. She was behind only Corning star Sarah Lawson and Pipher Reid of Chenango Forks, and she finished ahead of the other Corning runners in the field and some other top individuals in the race.
The Express junior has been the top runner for her team all year and seems to be peaking at the right time as they head into sectionals.