FROM PRESS ROW: CORNING'S THREE-HEADED MONSTER IN THE RUN GAME IS TOUGH TO STOP
(2021-10-18)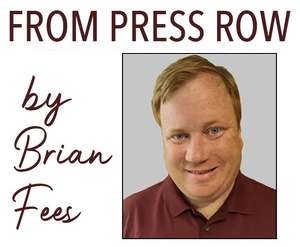 A lot of teams rely on one star player on offense.
For the Corning Hawks they have their three-headed monster in the backfield with Mason Smith, Logan Booker and Dillon Kennedy.
Any given week anyone of the three could lead the team in rushing, and week after week one, two, or all three go over 100 yards rushing.
On Friday night in Vestal two of the three went over 100 yards, all three went over 70 and the Hawks ran for 385 yards in the game.
Smith ran for 135 yards, Booker had 134 and Kennedy finished with 73 yards.
What makes it even harder for defenses when it comes to defending the three is that the carries are split up pretty evenly.
Smith had 24 carries, Booker 19 and Kennedy 13 in the game against Vestal.
While the three playmakers have been a key for the offense this year, Will Kilber has established himself as a big-time playmaker on defense.
Kibler had two interceptions on Friday and he now has six interceptions in five games this year.
The Hawks take on Elmira in a big matchup for the division lead this Saturday in Elmira.
JOHNSTON COMES UP BIG FOR HORSEHEADS
Gannon Johnston did a little bit of everything for the Horseheads football team on Saturday.
Johnston had a rushing touchdown as they moved him from the line into the backfield for a play. He also showed his athleticism on defense when he picked off a pass and ran it 85 yards from his defensive line position.
While Johnston has been a monster in the trenches, Riley Loomis has been a star at tailback and linebacker.
He helps lead the Horseheads defense, and on Saturday he had another 200-yard game against Binghamton and is over 900 yards in six games this year.
The Blue Raiders face a big test this week as they host Union-Endicott on Friday night.
It's homecoming for the Blue Raiders and the winner of the game takes the division title.
BIG WIN FOR THE CRUSADERS
It was a rough start to the year for the Notre Dame football team, but Friday night was the type of performance they had been looking for all season.
Early in the year Notre Dame was looking a lot like a passing team. On Friday they looked like one of the most balanced teams you can find, as Dylan Clark ran for 184 yards in the game and Griffin English threw for 172 yards.
Putting up 400 yards of offense, the Crusaders split things almost evenly between rushing and passing and Unadilla Valley had no answers for the Crusaders.
Notre Dame scored every possession in the first half on their way to the victory.
Early in the year Notre Dame had shown flashes. They got off to strong starts against Trumansburg and Edison, leading both through the first quarter and they were 6-6 with Unatego, but in all those games things started to turn in the second quarter.
On Friday the Crusaders were the ones who pulled away in the second quarter on their way to the win.
Notre Dame has two more games left, this week is a big challenge as they host unbeaten and second-ranked in the state SVEC on Friday. Next week they finish with Newfield, who is 1-3.
ELMIRA, EDISON FALL AGAINST STATE-RANKED TEAMS
It was a tough weekend for the Edison and Elmira football teams, but both were going up against state-ranked teams.
Elmira dropped a game at Union-Endicott, who is ranked in the state in Class A, and Edison dropped a game Saturday against Groton, who is state ranked in eight-man football.
Both teams will be looking to bounce back in challenging gams this week.
Elmira hosts Corning in a key game on Saturday in a key game for the division title and in a possible matchup that could preview the AA sectional final this year.
Edison has a trip to Unatego/Franklin, but the game isn't Friday, it's now next Monday night.