COLLEGE VOLLEYBALL: CCC TEAM FEATURING SIX LOCALS WINS FOUR OF THEIR PAST FIVE MATCHES
(2021-10-14)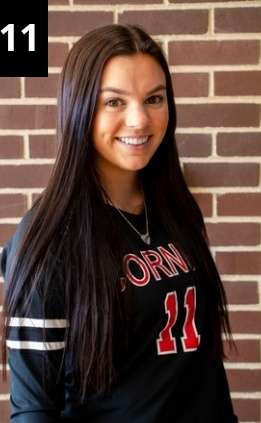 Southern Tier Sports Report
A Corning Community College women's volleyball team that features four Elmira graduates, a Horseheads graduate and an Edison graduate, have won four of their past five matches.
Elmira grads Lauren Weaver, Kylie Lynch, Alivia Kelley and Victoria Burns are all on the team, along with Bailey Mawhir of Edison and Abigail Whitford of Horseheads.
The rest of the team is made up of players from not too far away either as there is a Hammondsport graduate, a Sayre grad, a Williamson grad, a Tioga graduate and a Waverly grad on the team.
On Tuesday CCC picked up a 3-1 win over Genesee Community College. They dropped their previous game last Friday to Erie Community College, but won three straight before that against Niagara County CC, Onondaga CC and Tompkins Cortland CC.
This season Lynch has 26 kills for CCC with seven digs and 31 points and Weaver has 14 points and 111 digs, tops on the team.
Kelley has seven kills and 43 digs, with 14 points and Burns has 37 points, third on the team, with 47 digs and 25 kills.
Mawhir has two digs and two points and Whitford has a team-leading 49 points with 34 kills, also tops on the team, and 17 digs.
CCC is at Finger Lakes Community College for a doubleheader on Saturday. Their final home match of the season is next Wednesday against Cayuga Community College.
---
IN TOP PHOTO: Abigail Whitford. . . PHOTOS COURTESY OF CORNING COMMUNITY COLLEGE ATHLETIC