ON TAP TODAY: NOTRE DAME GIRLS HOST WAVERLY FOR DIVISION TITLE IN DAY'S MARQUEE EVENT
(2021-10-14)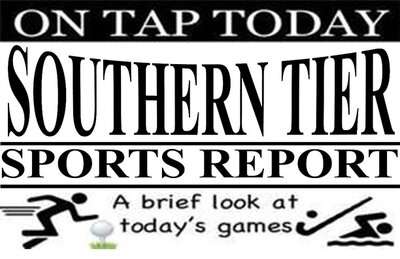 Southern Tier Sports Report
For the third time Notre Dame and Waverly square off in girls' soccer.
The first two matchups both ended in scoreless ties, and this one is a big one as the winner claims the division title.
That matchup along with Corning and Horseheads meeting for the second time this year in volleyball headline a light day in sports, a day that also includes sectionals for tennis.
Here's a look at the day's events.
GIRLS' SOCCER
WAVERLY AT NOTRE DAME, 4 P.M.:
Twice this year the two teams played to scoreless ties, and now they meet again. Both teams are coming off 2-0 wins this week, Waverly over Dryden on Tuesday and Notre Dame over Union Springs on Wednesday.
VOLLEYBALL
CORNING AT HORSEHEADS, 6:45 P.M.:
The two teams met earlier this season at Corning, with the Blue Raiders coming away with a three-set sweep. Horseheads remains unbeaten on the season as they enter this matchup.
ELMIRA AT ITHACA, 6:30 P.M.:
The Express take to the road for a STAC volleyball matchup.
SWIMMING AND DIVING
NOTRE DAME AT WATKINS GLEN, 4:30 P.M.:
Allie O'Brien has had a strong season for the Crusaders and she leads them into the meet at Watkins Glen.
JOHNSON CITY AT ELMIRA, 6 P.M.:
The Express host a matchup a day before they kick off their annual swimming and diving invitational.
TENNIS

CLASS A SECTIONALS AT U-E, 9 A.M.
Corning, Elmira and Horseheads both have players taking part in sectionals today. In singles Kaitlyn Chung of Corning faces Makenna Pratt of Binghamton in the opening round, while Jane DeGuire of Horseheads meets Natalie Crowley of Seton Catholic. Horseheads' Tamara Mendez takes on Binghamton's Samantha Dalmolen and Corning's Margaret Cleary faces Amanda Homan of UE. In doubles Elmira's Ashlee Klabier and Shyanne Tubachanah take on Ana Petrella and Liala Cryer of Ithaca and Horseheads' Madelyn Veres and Aisha Spear meet Emma Nagorney and Anna McNair of Seton. Corning's Erica Macapiniac and Emma Frost meet Binghamton's Isabella DeVincentis and Ardin Chanecka. Elmira's Emily Tarby and Addy Gulick meet Paige Kopolow and Melanie Layish of Binghamton and Jenna Kathan and Aubrie Lewis of Horseheads meet Caroline Whelan and Elise Park of Ithaca. Corning's Jillian Austin and Ella Perry have a bye into the quarterfinals and they meet the winner of a pair from UE and a pair from Seton.