COLLEGE MEN'S SOCCER: CORNING GRAD COMES UP BIG IN FIRST START FOR D1 LAFAYETTE AS A TRUE FRESHMAN
(2021-10-13)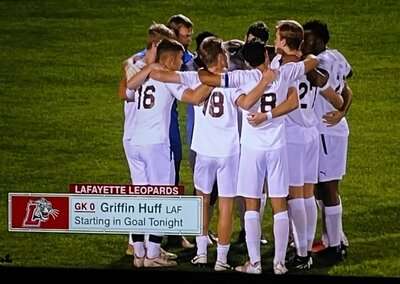 Southern Tier Sports Report
Corning graduate
Griffin Huff
made his first start for Division I Lafayette last night.
Huff, a 2021 graduate of Corning, and a true freshman on the Lafayette soccer team, had saves saves in goal, including big saves in the second half and overtime to help preserve a 3-3 tie.
It was the fourth overtime game Lafayette has played this season.
The Leopards were led by senior Max Ippolito, junior Benji Grossi, and junior Hale Lombard, who each netted a goal. Grossi also totaled an assist in the game, along with sophomore Jon Ford and freshman Eoin Martin.
Huff made his collegiate debut on Tuesday, playing all 110 minutes of action and recording six saves.
Ippolito struck first for Lafayette (7-4-2, 3-1-1 PL) in just the third minute of action to quickly put the Leopards up 1-0. Saint Joseph's (5-8-1, 3-2 A10) responded 15 minutes later, in the 18th minute with a goal of its own to tie the game at 1-1. The Hawks were then awarded a second goal in the 23rd minute to make it 2-1.
The Hawks quickly added another goal at the start of the second half to push their lead out to two.
It was Grossi who helped jump start the Leopards as he put in his second goal of the season in the 57th minute to pull the Leopards within one. Lombard followed up Grossi's goal six minutes later with his fourth goal of the season to tie the game up at 3-3.
Saint Joseph's looked as if it might find the game-winner in the 89th minute but a huge save by Huff kept the game tied at 3-3, forcing overtime.
Saint Joseph's had the lone chance in the first 10 minutes of overtime but once again, Huff came up with a big save to keep the game in a tie and forcing the second overtime period.
Each side had an opportunity to net the golden goal in the final 10 minutes but neither could find a way passed the opposing side's defense as the game ended in a 3-3 draw.

---
PROVIDED PHOTO