IAC BOYS' SOCCER: NOTRE DAME WRAPS UP SEASON WITH TIE AGAINST O-M
(2021-10-13)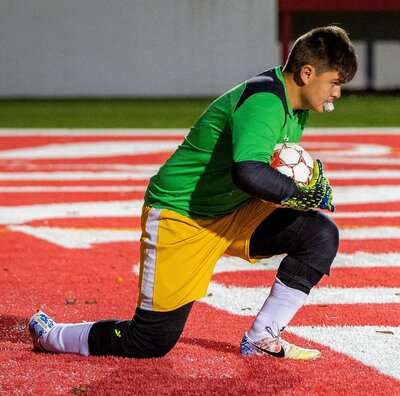 Southern Tier Sports Report
ODESSA — The Notre Dame boys' soccer team held an opponent to one goal for the third straight game, in a 1-1 tie with Odessa-Montour.
While the Crusaders finished the season 0-8-3, they played well down the stretch as goalie Jackson Potter was absolutely dominant the final weeks of the season.
O-M scored just 48 seconds into the game.
"After that the game settled into a physical and chippy affair that at times was on the verge of being out of control," Notre Dame coach Erik Rominger said.
Notre Dame overcame the adversity by controlling play and putting shots on Odessa-Montour.
Off a corner with just over there minutes left in the game Notre Dame freshman defender Sebastian Capriotti put a header through the legs of the keeper from close range off a perfect cross by senior Sean Franzese to tie the game.
Overtime featured more of the same physical play, and Potter kept Notre Dame in the game with a tremendous one-handed save off an Odessa free kick in the first overtime period.
Neither team could find the game winner as the game ended in the tie.
"This was the final game for Notre Dame's three seniors, Sean Franzese, Xander Gillette and Tyler Simpson," Rominger said. "They were great leaders and contributors to the program and they will be missed next year.
"The future is bright for Notre Dame soccer with seen freshmen and one sophomore returning to next year's squad."