HIGH SCHOOL BOWLING: CORNING BOYS AND GIRLS SWEEP JOHNSON CITY
(2023-01-24)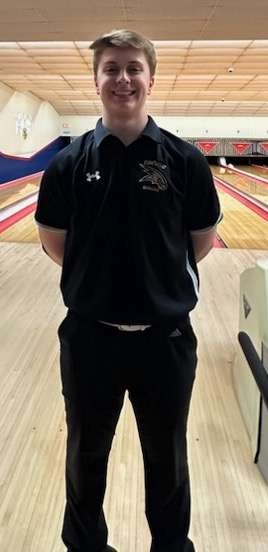 Southern Tier Sports Report
CORNING — The Hawks boys and girls bowling teams both swept Johnson City on senior night on Tuesday.
For the boys Joseph Enderle had a 661 series, shooting games of 206, 225 and 230 to lead the way, while Cameron Kennedy shot a 657 series with games of 279, 216 and 162.
Cameron Stefanini shot 609 on the day with a 181-192-236.
ON the girls side Corning shot 721, 782 and 814 for a 2,317. Johnson City shot 706, 653 and 686 for a 2,045.
Hanna Millhollen led Corning with a 158-140-201-499 and Kylie Downing shot 160-169-166-495, while Alexa VanAlstine shot 148-188-156-492.
Jadyn O'Dell shot 128-139-153-420 and Briannah Evans shot 127-146-138-411.
Jana Molyneaux led Johnson City with a 196-153-137-486.
The Hawks bowl against Horseheads on Monday.
——
IN TOP PHOTO: Corning's Joseph Enderle. . . PHOTOS BY BRIAN FEES