THE SPORTS REPORTS: WAVERLY'S BEEMAN, NEWARK VALLEY'S GARDNER NAMED ZIFF LAW FIRM REGIONAL 'ATHLETES OF THE WEEK'
(2023-01-23)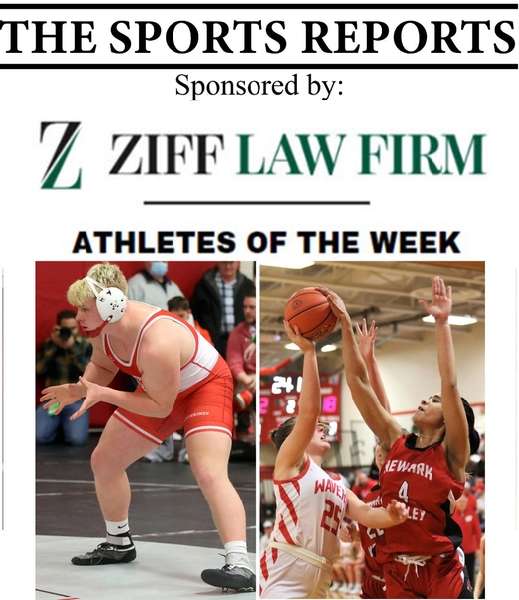 The Sports Reports
Waverly senior Ty Beeman had a big week on the mats for the Wolverines, while Newark Valley junior standout Cha Gardner led the state-ranked Lady Cardinals to two more wins. They are
The Sports Reports
/
Ziff Law Firm
Regional "
Athletes of the Week
," for the week ending Jan. 21.
WAVERLY'S BEEMAN NAMED BOYS' REGIONAL "ATHLETE OF THE WEEK"
Beeman went 4-0 to win the 215-pound title at the IAC wrestling championships Saturday, and was 7-0 on the week.
Beeman opened with a pin of Tioga's Austin Babcock in 2:53, then beat Newark Valley's Seth Northrup, 9-3, in the quarterfinals.
After pinning Tioga's Tate Macauley in 3:19 in the semifinals, Beeman won a wild, 10-9, decision over Groton's previously-unbeaten Donovan Mitchell, who was 18-0 entering the bout.
Beeman was also 3-0 — all via falls — Wednesday at the Section IV Duals, helping Waverly advance to the finals.

Honorable mentions:
Owego's John Bangel (basketball), Wellsboro's Conner Adams (basketball), Towanda's Rylee Sluyter (wrestling), Horseheads' Ryan Massengale (wrestling),

NEWARK VALLEY'S GARDNER NAMED GIRLS REGIONAL "ATHLETE OF THE WEEK"
Gardner recorded her first triple-double of the season in a victory over state-ranked Waverly.
She scored 17 points, pulled down 13 rebounds and blocked 12 shots. Gardner also dished out four assists and grabbed two steals.
In a 72-36 win over Trumansburg, she recorded 13 points, five rebounds, five assists and three steals.
Honorable mentions:
Wellsboro's Paige Logsdon (basketball), Tioga's Kali Bailey (wrestling), NEB's Anaiah Kolesar (wrestling), Horseheads' Sophia Bonnell (basketball).