HIGH SCHOOL WRESTLING: HORSEHEADS WRESTLING IN POOL WITH WANTAGH, BURNT HILLS FOR STATE DUALS
(2023-01-23)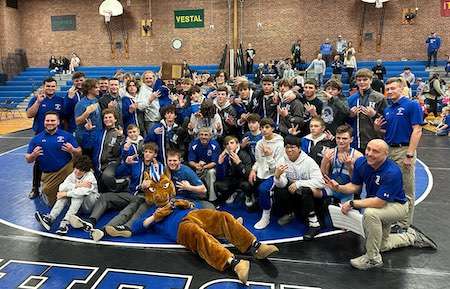 Southern Tier Sports Report
The brackets are set for the Horseheads Blue Raiders at the New York State, Division I Duals at SRC Arena in Syracuse.
Horseheads is in a division with Wantagh and Burnt Hills.
Wantagh is the third seed, Burnt Hills is the sixth seed and Horseheads is unseeded. Wantagh was the runner-up at state duals a year ago.
In the state rankings Wantagh is the third-ranked team in the state, while Burnt Hills-Ballston Lake is the ninth ranked team in the state.
Horseheads opens the day with Wantagh in round one, then wrestles Burnt Hill, as they wrestle each of the first two rounds on the three round prelims.
Projected lineups for each team are:
HORSEHEADS
102: Joel Scibek (16-11)
110: Gavin Hornsby (15-14)
118: Zack Bennett (11-7)
126: Cody Dale (20-7)
132: Coleton Owen (22-8)
138: Ryan Massengale (24-5, state qualifier)
145: Zachary Schrage (19-4) or Lucas Mosher (14-7)
152: Schrage, Mosher or William Lotocky (16-11)
160: Liam Levantovich (19-9, state qualifier)
172: Shawn LaBar (13-10)
189: Hunter Lavigne (18-7)
215: Jacob Bennett (11-15)
285: Seamus Carroll (13-14)
WANTAGH
102: Jonathan Cultrone (27-5) or Darren Santucci (29-4)
110: Santucci or Maxwell Burkhardt (12-13)
118: Anthony Clem (37-4, 4th at states last year)
126: Ryan Arbeit (27-8, state qualifier)
132: Joseph Clem (33-5, 3rd at states last year)
138: Benjamin Burkhardt (19-9)
145: Thomas Bonasera (35-4, state qualifier)
152: Jesse Vanorden (31-1)
160: Michael D'Amico (22-10)
172: Noah Corwin (27-6, state qualifier)
189: Dean Roumbos (12-7) or Daniel Pettinato (22-8)
215: Pettinato or Nicholas Razeq (10-5)
285: Andrew Perez (21-10) or Billy Kanellis (13-15)
BURNT HILLS
102: Brody Dicaprio (20-5)
110: Dylan Posson (0-7)
118: Tyler Whiteley (15-7, 8th at states)
126: Ben Taylor (12-15)
132: Liam Carlin (22-3)
138: Gabriel Goss (20-2, 7th at states last year)
145: Colin Carlin (21-5)
152: Joshua Warland (6-1)
160: Howard Bearce (9-8) or Thomas Pawlinga (12-10)
172: Thomas Pawlinga or Samuel Martin (7-2)
189: Brennan Livingston or Andrew Martin (4-11)
215: Julian Gross (3-9)
285: Santino Mareno(17-8)