COLLEGE MEN'S BASKETBALL: HORSEHEADS GRAD MARSHALL, EC'S ADAMS SHARE EMPIRE 8 HONORS; EC'S ROY EARNS WOMEN'S HONOR
(2022-11-29)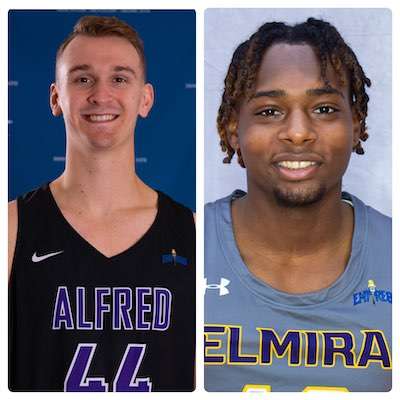 Southern Tier Sports Report
Horseheads graduate Brewster Marshall and Elmira College's Bryan Adams shared the Empire 8 men's basketball player of the week honors.
Marshall showcased his versatility, going 5-of-7 from 3-point land as he finished with 29 points, 11 rebounds, six assists, three blocks and three assists in a dominant, 95-70 win over visiting Pitt.-Bradford on Tuesday. All of his stat lines, including eight defensive boards were team- and game-highs. Marshall was 10-for-16 from the field and 4-of-5 from the free throw line in only 29 minutes of play.
Adams, the reigning E8 Rookie of the Year was able to propel the Soaring Eagles to victory over Hilbert on Tuesday after exploding for 39 points, six rebounds, four assist, and three steals. His 39 points marked a new career-best, while Adams also shot an astonishing 12-of-17 from the floor (.706) and drained 11 shots from the charity stripe.
On the women's side Elmira College's Desiree Roy was named women's basketball player of the week.

Roy helped propel the Soaring Eagles to a 4-0 start in 2022-23 after contributing 21 points and 13 rebounds in Elmira's 59-44 win over Hilbert on Tuesday. Additionally, Roy added four assists on the offensive end, while defensively she was credited with four steals and four blocks.
——
PHOTOS COURTESY OF ALFRED AND ELMIRA COLLEGE ATHLETICS.