ON TAP TODAY: SWIMMING, BASKETBALL & BOWLING HIGHLIGHT THE DAY IN LOCAL SPORTS
(2022-11-29)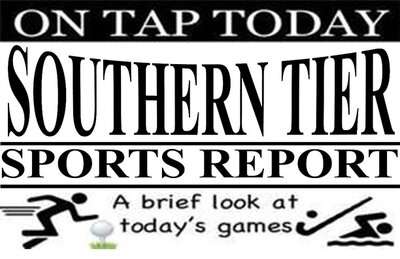 Southern Tier Sports Report
A pair of swim meets, the first basketball game of the year and a bowling match, highlight the day in local sports.

SWIMMING & DIVING
DRYDEN AT ELMIRA, 5:30 P.M.
The Express kick off the season with a home meet against Dryden.
HORSEHEADS AT BINGHAMTON, 5:30 P.M.
The Blue Raiders go on the road to begin the season.
BOYS' BASKETBALL
SOUTHERN CAYUGA AT EDISON, 7 P.M.
The Spartans open the season with a non-league matchup.

BOWLING
TIOGA AT EDISON, 4 P.M.
The Spartans play host to the Tigers. Tioga opened the season with 4-0 win over O-M on the girls side and a 3-1 loss on the boys side. The Edison boys opened with a 4-0 loss to SVEC in the opener, while the Edison girls had no bowlers in the first meet.