ALL-STSR GIRLS' SOCCER: ELMIRA'S HANRAHAN HEADLINES ALL-STSR TEAM; CORNING'S LOEBER AND PIERCE, ND'S MALONEY AND HORSEHEADS' FAIRBROTHER AMONG AWARD WINNERS
(2022-11-23)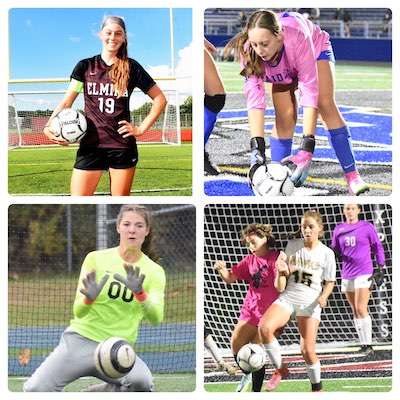 By Brian Fees
Southern Tier Sports Report
A future Division I player, a standout defender for a sectional champion, and a pair of talented goalies highlight this year's All-Southern Tier Sports Report Girls' Soccer team.
The team is headlined by Emily Hanrahan of Elmira. Hanrahan, who is committed to play soccer at Division I St. Joseph's, led the region in scoring this year and through the first third of the year she scored every goal for the Express. She's a 50-plus goal scorer in her career.
Hanrahan headlines the All-STSR team as the Player of the Year, and she is also the offensive player of the year
Corning's Josie Loeber was a force on the defensive end this year, and she helped slow down the Elmira Express in the sectional final, and she is this year's defensive player of the year.
Notre Dame's Shannon Maloney was a first-team all-state pick a year ago, and she was last year's All-STSR player of the year and All-Region player of the year after leading the Crusaders to the State Final Four. This year Notre Dame fell in the sectional playoffs, but Maloney had another strong year and is the all-STSR goalie of the year.
Horseheads goalie Ava Fairbrother had a strong debut season for the Blue Raiders and she is this year's all-STSR newcomer of the year.
Corning's girls won the Section 4 title and Julie Pierce of Corning is the coach of the year.
The first team includes Hanrahan and Elmira teammates Tierney Krawczyk, Emma Pack and Mia Capilli along with Corning's Loeber, Brooklyn Batzing, Megan Kirk and Lilia Mack.
Horseheads' Fairbrother is on the first team with Notre Dame's Maloney and MK Young.
The second team includes Elmira's Olivia Henry, Emily Klotz, Lily Rice, Sloan Moss, Ashaya Wallace and Abby Lambert. Corning's Katie Grottenthaler and Maggie Calkins are on the second team with Horseheads' Katie Miley, Tess Eisner, Megan Wolfe and Leila Vargas and Notre Dame's Makenna Keough, Ellie Green and Ella Chicone.
The rookie team includes Fairbrother and teammates Emma Kama and Abby Sumner along with Corning's Sophia ReSue and Calkins and Notre Dame's Jhamairah Maxwell and Elmira's Lily Rice.
ALL-STSR GIRLS' SOCCER
PLAYER OF THE YEAR:
Emily Hanrahan, Elmira
DEFENSIVE PLAYER OF THE YEAR:
Josie Loeber, Corning
OFFENSIVE PLAYER OF THE YEAR:
Emily Hanrahan, Elmira
COACH OF THE YEAR:
Julie Pierce, Corning
GOALIE OF THE YEAR:
Shannon Maloney, ND
NEWCOMER OF THE YEAR
: Ava Fairbrother, Horseheads
FIRST TEAM
Emily Hanrahan, Elmira
Lilia Mack, Corning
Mia Capilli, Elmira
Tierney Krawczyk, Elmira
Emma Pack, Elmira
Josie Loeber, Corning
Ava Fairbrother, Horseheads
Shannon Maloney, ND
Brooklyn Batzing, Corning
Megan Kirk, Corning
MK Young, ND
SECOND TEAM
Olivia Henry, Elmira
Ellie Green, ND
Tess Eisner, Horseheads
Emily Klotz, Elmira
Katie Grottenthaler, Corning
Lily Rice, Elmira
Sloan Moss, Elmira
Katie Miley, Horseheads
Megan Wolfe, Horseheads
Maggie Calkins, Corning
Ashaya Wallace, Elmira
Abby Lambert, Elmira
Makenna Keough, ND
Ella Chicone, ND
Leila Vargas, Horseheads
ROOKIE TEAM
Sophia ReSue, Corning
Maggie Calkins, Corning
Ava Fairbrother, Horseheads
Emma Kamas, Horseheads
Abby Sumner, Horseheads
Jhamairah Maxwell, ND
Lily Rice, Elmira
——
PHOTOS BY BRIAN FEES