ALL-STSR BOYS' SOCCER: CORNING'S LIAM BAYNE HEADLINES ALL-STSR TEAM AS PLAYER OF THE YEAR; CARTER ROSNO, COLTON LOEBER, SAM BRENEN-BUSECK AND CHAD FREELOVE ALSO HONORED
(2022-11-23)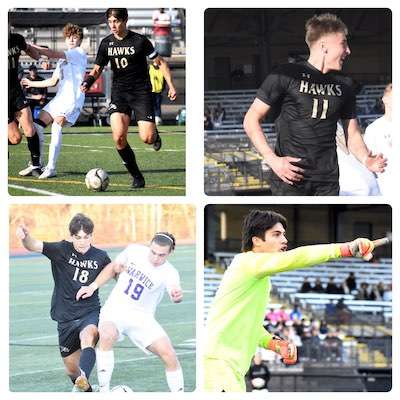 By Brian Fees
Southern Tier Sports Report
It was a successful season for area soccer teams, making for some tough choices for this year's All-Southern Tier Sports Report All-Star team.
The Corning Hawks won the sectional title, and won their subregional game, falling in the state quarters to the eventual state champion 4-2. The Hawks were the only team in the state playoffs to score against eventual champion Scarsdale.
The Hawks have this year's Player of the year, offensive and defensive players of the year and coach of the year.
Liam Bayne rejoined the Corning Hawks this year after spending the past couple seasons with the MLS Next Program. Bayne was a force in the midfield for the Hawks all-season and he is this year's All-STSR Player of the Year. Bayne also had 10 goals and six assists on the season for the Hawks.
Bayne's teammate, Carter Rosno, led the region in scoring and he's the offensive player of the year. Rosno scored 24 goals and had nine assists on the season for the Hawks.
Colton Loeber anchored the Hawks defense and he is the defensive player of the year. He's the captain on the Hawks defense and a two-time all-conference selection.
Corning coach Chad Freelove helped guide the Hawks to a division title and a sectional title, as they reached the regional final and he's the coach of the year.
Elmira goalie Sam Brenen-Buseck had seven shutouts this season for the Express and rarely gave up goals in open play, of the goals he did allow this year two were on penalty kicks and two on own goals.
Brenen-Buseck is this year's All-STSR goalie of the year, and he's also a newcomer to varsity soccer and is the newcomer of the year.
The first team includes Bayne, Rosno, Loeber, Nate Freelove, Rowan Rosno and Jackson Casey of Corning. Elmira's Brenen-Buseck is joined by Jahmier Klee and Shane Heifferon on the first team and Matt Mucci of Horseheads and Kevin Green of Notre Dame are on the first team.
The second team features Caleb Anderson of Corning, Ben Church of Horseheads, Guilherme Toigo of Notre Dame, Anthony Kitching of Elmira, Anthony Mendoza of Corning, Cody Dale and Kent Schneider of Horseheads, Preston Ogumwumi and Aidan Crane of Corning, Jose Neto of Notre Dame and Ashtyn Traugott-Knoll of Elmira and Blaize Patricelli of Elmira.
The rookie team includes Brenen-Buseck and Luca Capilli and Traugott-Knoll of Elmira, Corning's Jake Kempton, Zack Lese of Horseheads and Notre Dame's Toigo and Neto.
BOYS' SOCCER ALL-STSR TEAMPLAYER OF THE YEAR:
Liam Bayne, Corning
DEFENSIVE PLAYER OF THE YEAR:
Colton Loeber, Corning
OFFENSIVE PLAYER OF THE YEAR:
Carter Rosno, Corning
COACH OF THE YEAR:
Chad Freelove, Corning
GOALIE OF THE YEAR:
Sam Brenen-Buseck, Elmira
NEWCOMER OF THE YEAR:
Sam-Brenen-Buseck, Elmira
FIRST TEAM
Liam Bayne, Corning
Carter Rosno, Corning
Colton Loeber, Corning
Nate Freelove, Corning
Sam Brenen-Buseck, Elmira
Shane Heifferon, Elmira
Jahmier Klee, Elmira
Rowan Rosno, Corning
Matt Mucci, Horseheads
Jackson Casey, Corning
Kevin Green, ND
SECOND TEAM
Caleb Anderson, Corning
Ben Church, Horseheads
Guilherme Toigo, ND
Anthony Kitching, Elmira
Anthony Mendoza, Corning
Cody Dale, Horseheads
Aidan Crane, Corning
Preston Ogunwumi, Corning
Kent Schneider, Horseheads
Ashtyn Traugott-Knoll, Elmira
Jose Neto, ND
ROOKIE TEAM
Jake Kempton, Corning
Sam Brenen-Buseck, Elmira
Ashtyn Traugott-Knoll, Elmira
Luca Capelli, Elmira
Zack Lese, Horseheads
Guilherme Toigo, ND
Jose Neto, ND
——
PHOTOS BY BRIAN FEES