END OF AN ERA: THE MALONEY AND MUSTICO FAMILIES HAVE BEEN A KEY PART OF THE ND SOCCER FAMILY FOR A DECADE (13 PHOTOS)
(2022-11-22)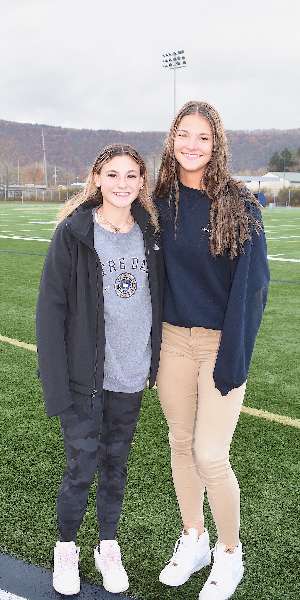 By Brian Fees
Southern Tier Sports Report
When Ava Mustico and Shannon Maloney were little they would be in the stands at Notre Dame games, cheering on their big sisters, dreaming of the day they'd be able to play soccer for the Crusaders.
10 years later and the two wrap up a storied run by six girls from two families who truly were all sisters on, and off, the field.
The Mustiloneys, as the two families that live next door and grew up together call each others, have played a key role in Notre Dame's success over the past 10 years.
Every one of the sisters made a trip to the state final four in their careers. There have been IAC and Section 4 titles, all-state honors and memory after memory.
"The best part is when we'd win and her family and my family would get together and we'd celebrate, and it's just been a tradition since Julia and Mackenzie were playing."
It all started with Julia Mustico and Mackenzie Maloney, who graduated the same year. Next came Peyton Maloney and Ellie Mustico, who graduated just a year apart. Now you have Ava and Shannon, who will both graduate in the spring.
"It's crazy to think I'm 23 now, when I started playing soccer for Notre Dame I was 13 years old, so 10 years ago now," Mackenzie Maloney said. "It's very bitter sweet to look back on all those memories and accomplishments. Definitely some of the most special moments for high school for me were on the field.
"I think my sisters can say the same and the Mustico's as well. It was a uniter. We grew up together, we all shared this love of soccer and we really got to experience quite a level of success I don't think a lot of people can appreciate. That all comes from hard work and a serious amount of camaraderie from all of us and a super competitive bone we have to this day. It's very special and I think a unique bond we all have."
That's two families, three sisters each, all the sisters having a sister from the other family nearly the exact same age.
"It was awesome, me and Shannon were best friends since we were like four-years old and to be able to grow and play on the same team is awesome."
"It was great, we had built in best friends, each and every one of us," Peyton Maloney said. "That bond was built from a really young age, you have that sisterly bond where you are comforting, but also a little bit of tough love."
HOW IT STARTED
Mackenzie Maloney was an all-time great goalie for the Notre Dame soccer team. She was a two-time all-state keeper, earning first-team honors her senior year.
One of the defenders in front of her was Julia Mustico.
The two friends helped Notre Dame finish second in the state during their careers.
"It was a lot of fun," Julia Mustico said. "We would sometimes drive to games together. She was a great goalie. She was a team leader when we played. It was nice to go over to her house afterwards and go over how games went. I learned a lot from her.
The two families moved next door to each other and Mackenzie and Julia, and their sisters, all quickly became friends.
"It really made things extra special because we both moved into those houses around the same time just as Julia and I were starting middle school, then eventually moved to Notre Dame, so we started at Notre Dame together," Mackenzie Maloney said. "And, now Ava and Shannon are going to be graduating this year and all these years later still live in those houses. It's definitely very special to have them so close to us both physically and as family friends."
The younger siblings all looked up to their older sisters.
"When Kenzie was in goal and I came up (to varsity), she was the ultimate leader," Ellie Mustico said. "I looked up to her so much. She was an amazing player. Then, I saw Shannon coming along and she was playing the field a little bit, I knew she could be just like Kenzie. Everything starts back there (in goal), they secured the defense for us.
The older sisters loved seeing the younger sisters at their games cheering them on.
"It was so cute, they were always our biggest fans," Julia Mustico said. "The younger kids, they came to all our games dressed up in Notre Dame gear, cheering us on with posters. It was so exciting to have that built in fan group."
And the older sisters loved watching their younger siblings take after them.
"It just makes me so proud to see what Julia and all of our sisters have accomplished together," Mackenzie Maloney said. "It's kind of like seeing our younger sisters mirror us in a way. I'm so proud of Shanon and Peyton and Ava and Ellie and I know Julia would say the same. They all followed in our footsteps so to speak, but they found a way to be even better.
"It was so fun for me to come home and watch my sisters soccer games. Me and her (Shannon) even did some keeper training as well. I remember coming home for Peyton and watching her just dominate on defense. It makes me so proud to see all six of us have brought our level of competition to the state level. It speaks to our hard work and talent there is in that Notre Dame program."
THE LUCKY ONES
While all of the sisters got a chance to play with at least one of their siblings during their careers, Peyton and Ellie being the middle children each got a chance to play with both their older sisters, as well as their younger sisters.
"I think both Ellie and me for sure being able to play with both our older and younger sisters was so amazing," Peyton Maloney said. "They were mentoring us when we were young players on the team and then to be able to transfer to the mentor role, it was something really cool."
"We had someone to look up to seeing Kenzie and seeing Julia and we got to have them be role models, then we got to be the role models," Ellie said. "To be in both positions we definitely got the better end of it."
For Mackenzie she wishes she could have gotten a chance to play with the youngest two like Ellie and Peyton did.
"The only thing that would have made it better is if we could have gotten to play with Ava and Shannon as well," Mackenzie said. "It's really special to be able to celebrate those big stage wins with not only your teammates, but your family. That's something super special. It's amazing memories that Peyton and I and Ellie and Julia all share. I lived vicariously through Ava and Shannon in their last year of school. I love coming home and watching them play and absolutely kicking butt. I'm in awe of them all the time.
"I am definitely jealous she (Peyton) got to play with all of us. It was a unique situation to watch Peyton and Ellie go from the young sisters, the 'babies on the team' and grow into the leaders on the team and have that older sister role with Ava and Shannon. And, Ava and Shannon took that on and they were leaders this year. That sibling connection teaches you a lot about leadership."
All the sisters loved when they got a chance to play with any of their siblings.
"It was great, she's (Ellie) always been a great athlete and leader," Julia Mustico said. "It was so great to finally play with her instead of just watching her games. All my life I went to their travel softball, travel soccer, travel basketball, so it was nice to be on the same side instead of cheering her on."
"It was so nice, because I had my sister (Peyton), who would always critique me and tell me what to do, but Ellie was also like my sister so I had like both of those two helping me through my high school career," Shannon Maloney said.
ALL SIX EXPERIENCED STATES
Getting to states is rare for any athlete. To have all six of the Mustiloneys make it to states during their careers is something special.
"It's so special, honestly," Peyton Maloney said. "A lot of programs don't even get to see something like that (states), the fact that our two families have seen so many, it's such a great honor. I want to say our families saw three in our time, which is more than many other programs see, let alone families. I look back on those games as one of the best moments of my high school career."
"I have always said, even now, one of the best memories I have had is going to states," Ellie Mustico said. "Going to states, is one of the best memories I have. I was hoping Ava would would get to experience that, and luckily she did.
"The way my senior year ended with Covid and not being able to play in IACs, that was really hard to end my career, so watching it, I'm honestly so happy they got to experience that, they got to go to states. I feel like they had a little better closure. I literally came home when they went to states I was so happy for them. It's something e all got to experience, it's such an amazing thing we got to experience."
"It was great, it was such an amazing opportunity when I did it, when it happened again for Ellie and Ava it was so exciting to see them experience what I had experienced," Julia Mustico said.
It was fun for Mackenzie to watch the younger sisters at states.
"We all would zoom in or FaceTime so we could watch games. It's such an exciting time of year. Everyone is freezing and bundled up to watch some of the best soccer of the year," she said. "The journey to states is such a special time with your teammates, as well as so exciting as competitors. I'm so happy all my sisters and the Mustico's, we all got to experience that."
"My sisters called me and texted me and was like I'm so happy this happened," Shanno Maloney said.
SOCCER UNITES THEM
For all of the Maloney and Mustico sisters the sport of soccer has been something that brings them all together, and also has kept them connected to Notre Dame.
Even wince they graduated, and moved out of the area the older siblings would keep up with what their sisters were doing, watching their games and keeping track of their big victories.
"I think it definitely kept me connected, staying in the loop about how every game went," Peyton said. "Calling Shannon, or in a text exchange with all the sisters the Mustico's and the Maloney's, where are we now, are you going to sectionals."
"I loved watching it," Julia said. "We stream the games on TV, me and my sister (Ellie) live to gather in Florida. We still watch the games. WE call after games to see how they did and tell them how proud we are of them. I went to school in South Carolina and now live in Florida, I wouldn't have been at these games if it wasn't for my sisters."
For Mackenzie Maloney it is special to see the bond between the families grow through the love of soccer.
"It's very special, it speaks to the tradition of Notre Dame in our family a lot," she said. "Just how much they have grown over the years. Watching us and being excited to pass on the mantle to them. That's very special. It's even the same I think for my brother and Xavier, even though they are a little they different age group, they were fantastic athletes. It's a super family bond that both of our families share."
Ava and Shannon have loved having their siblings at their games, and supporting them.
"To see our sisters celebrate winning and our whole families would come together and be like the Mustiloneys won again," Shannon Maloney said. "It's so exciting because we are like family and we celebrate each other."
THE YOUNGEST GET THEIR TURN
Since she was little there were expectations that Shanon Maloney would be a star goalie.
Mackenzie had been a two-time all-state goalie, earning first-team honors in her career.
At first that scared Shannon to try and live up to what her sister accomplished, but with the help of Mackenzie Maloney found herself starring in goal for Notre Dame.
"When everyone was like, you are going to be a goalie, your sister was a goalie, I was like, I don't know, because I was scared to live up to expectations," Shannon said. "But, I did goalie training and it's like, I'm going to be like my sister when I'm older.
"It was hard, but she (Mackenzie) helped me through it."
For Mackenzie it was special to be able to help her sister learn the position.
"I still remember when Covid began, she was probably going to be the starting goalie in the following year, so her and I would go over to Notre Dame and we would do our practice where it was just her and I, and I was just reaching back to the soccer ID camps (that Mackenzie went to) to give her the skills I could. She's just a gifted player, she had the height and genetics to be a fantastic goalie."
It was special for Mackenzie to watch her sister in goal.
"It was quite nostalgic for me to watch, it made me think of my times as a goalie," Mackenzie said. "I was just so excited for her, because I know how exciting it is in that position, in exhilarating high-pressure games. But, she's a rock. She really has that competitive mentality in everything. Her and I would work out in the gym together sometimes and really push each other."
And, when Shannon matched her sister by earning first-team all-state goalie honors a year ago her sister was one of the first people to congratulate her.
"I actually got a FaceTime from her right when we found out and she was like 'oh my gosh, I am so happy for you.'"
Ava and Shannon have been quite the combination for Notre Dame. Mustico scores goals up front, Shannon shuts teams down in the back end.
In the regional final a year ago Maloney had a shutout and Notre Dame won 1-0 on a Mustico goal to reach the State Final Four.
"It is fun for me, because I'd be like Ava has this, she's going to score a goal, and whenever she scored a goal I was like yes and ran all the way over to the other side of the field to give her a big hug," Shannon said.
"It was awesome because me and Shannon were best friends since we were like four-years-old and to be able to grow and play on the same team is awesome," Ava said.
For the older sisters it was fun watching their younger siblings grow as players.
"It is really awesome," Ellie said. "She (Ava) has really developed into a player I didn't expect when we were younger. When we were younger you had to force her to go to preseason. I remember Mr. (Steve) Weber was coaching us. He called and said you have to go to preseason right now. In seventh grade you had to push her to come and now to see what she's become, it's really exciting to see."
"I was so excited for her (Ava)," Julia said. "She came back and she was ready after what happened during Covid. She was ready and I was so excited for her to finally get the chance to play again and show what she had and could accomplish."
While she had siblings to learn from, Ava knew there were expectations following in her siblings shoes, but she was excited to get a chance o play for Notre Dame.
"It definitely made it a lot easier (having her older sisters on the team), but still very scary because people had high expectations," Ava said. "It was so exciting. I could not wait to be able to play on this field when I was younger.
"It was exciting (playing with the Maloney sisters), they are like my siblings. When they do good it makes me happy. Even just to come to the games and be a ball girl as a kid, I was like, I can't wait to be on that field when we grow up."
PUSHING EACH OTHER
From an early age the girls in both families had each other to practice with and spend time working on the game together with.
"Being neighbors, we did everything together," Julia said. "We did Halloween together, homework and study for exams together, everything we did was as a group."
"I would get off the bus in elementary school and I knew their number by heard, I'd be like do you want to hang out now, and we hung out all the time," Ellie said.
That included practicing soccer.
"We would even go over to the EFA field and we'd go play over there, practice there on our free time. We always would play together. WE had a little goal in the side or our yards to practice there too. We took advantage of always having someone that wanted to practice. Whether it was one of the youngest, or one of the oldest, it really helped our development in the sport.
"I think it had a really good affect on them (the younger siblings). It wasn't just the practicing with them, it was seeing our accomplishments and seeing how much fun we were having that also helped their mental game, they wanted to do all those things too."
Having siblings all close in age meant some great friendships.
"It was great, we had built in best friends," Peyton said. "Each and every one of us. Our year's, which was a complete blessing, it was funny after every game we would end up at each others houses talking over plays."
All of the Mustiloneys definitely pushed each other on the field as well.
"I was definitely intense, but your siblings, and even the Maloney's, I think of them as siblings, I could say something to Shannon and it was easy to get across to her," Ellie said. "I was on them more, that's how Mackenzie was with me, and Kenzie made me bette rand Julia made me better and I was hoping to make Shannon andAva bette was well.
"I think it was more of an encouraging thing, we all pushed each other to be better. We were not just playing four ourself, we were playing for our siblings, for our neighbors, it was encouragement."
And, when one of the siblings accomplished something, they all accomplished something.
"We are so supportive, we talk about everything we accomplished," Ellie said. "If my sister accomplished something, it was an accomplishment for me, if I accomplished something it was an accomplishment for her. When they beat Waverly it was the best way to go out is beat a rival for the last time. It was an experience, even if we were not the one playing, we could have that experience through our siblings."
END OF AN ERA
It's crazy for the sisters to realize that the last of them have played their last high school game.
"It's so crazy, it went by so fast," Ava Mustico said. "I remember when I was younger watching them play and I couldn't wait to be out there playing."
"I feel like it's been a thing in our family forever," Shannon Maloney said. "For it to be over, and we are not even playing in college, it's sad."
For the older sisters it's been following the team through their sisters, and it's odd for them to think it's over.
"It's definitely very bigger sweet," Mackenzie Maloney said. "And, crazy to think about how fast that time has flown by. We went through different age groups of sisters, but it makes me excited and proud and at the same time excited for their future.
"It's going to feel a little lonely for sure, it's going to be weird coming back and not seeing our siblings or close family friends on the field. I know, and I hope, we left a great legacy there to carry on and I know Shannon and Ava led by example this year, so I have a lot of hope for the program going forward. But, it's certainly a bitter sweet ending. I think my parents are going to go out of their minds as will the Mustico's."
Life isn't going to be the same for the sisters without soccer.
"My life is going to be a lot more boring without seeing the games," Julia said. "I always look forward to those. It's honestly really sad. I am going to miss watching them play. I'm just so excited for everything they accomplished in their years there.
"It's so funny, because they were the ones dressing up as we got older. For Ava, they were at every game cheering on, so it's just repeating history (with the holder sisters cheering them on) and I"m excited to see what they are going to do."
It's hard for the sisters to fathom an idea of not having one of the sisters playing for Notre Dame.
"It's absolutely insane to me," Peyton Maloney said. "I feel like we have almost just been a present part of the Notre Dame community, especially in soccer for so long. Just me being a ball girl on the sidelines when my sister played varsity when I was younger. How prevalent our family is being part of the team. It's really sad, but also something we can be proud of.
"Even just Facetiming my parents for our last game ever against Waverly, it was all so surreal. Memories are just popping back in my head, when I played them, or watching my older sister play them. It's very surreal knowing they are graduating soon."
This really does mark an end to an era at Notre Dame.
"It was obviously sad (to see it end), even though I'm in college I still watch their games," Ellie said. "I was into it. Seeing them graduate is kind of a n end of an era. It was moments of a lot of siblings spending time together. It was a really amazing experience, spending it what the Maloney's and seeing Shannon and Ava like Julia and Mackenzie did and Peyton and I.
"I think it's a little hard on my parents, what do we do now. It's definitely hard, but it's awesome, we have that many years of memories we made with this team."
NOTRE DAME FOREVER
A decade went in a flash for the six Mustiloneys.
"I think to myself where has the time gone," Peyton said. "She's (Mackenzie) coming up on reunions, it just blows my mind, because I still think about the years of seeing my sisters in the high school hallway and it's mind blowing that was so far in the past."
While the last of the siblings are graduating that doesn't mean the love for Notre Dame soccer changes.
"With how long we've been a part of the Notre Dame community I will continue to stay up to date, a whole new generation is coming in. I have little cousins that have been playing soccer since they were little, so I'm excited to stay connected.
"We are always carrying on our legacies. Even after Shannon and Ava graduate I think they left a legacy on the team. Even without the Maloney and Mustico name there, everything they fought the younger kids will carry on and I think that's really special to the Notre Dame soccer community."
It wasn't just the siblings who were part of the program. Mike Mustico has been an assistant coach the past couple of seasons for the soccer team as well. Mike Maloney is the head coach for the two come softball season
"I think it's nice to have someone that cares about you, not only cares about you, but cares about the whole team and the school to experience the moments with, that was amazing," Ellie said of her dad coaching Ava and Shannon. "Experiencing those with your dad on the sideline is really nice and really fun."
It's crazy for Shannon to think things are ending. But, she believes that Notre Dame motto that tradition never graduates.
"I didn't really think about it until the last couple of games we had," Shannon said of her career in soccer ending. "So much has changed in the program, even there there are new coaches (since her siblings played), we were al part of the same family.
"We kept some of the things they did, we carried on traditions. We kind of took after our sisters."
And, while the sisters are all graduating, there are cousins coming through for both families now, or in the newer future.
"It's going to definitely be hard," Ellie said of not having a sister on the team. "But, I feel like Notre Dame is a family and I do still have a cousin on the team, so I do have a little something on the team. Notre Dame is still a family and we'll always be rooting for them.
"That's the nice thing about Notre Dame. My grandfather would tell me stories about when he was there, now I have stories and we hope we can pass on our stories to our cousins and our kids."
"There is nothing we love more as a family than playing, or watching sports at Notre Dame," Mackenzie said.
And, no matter what the families do in life, sports will always be a part of life.
"I don't think we've ever met up with the Mustico's and Maloney's and not talked about sports," Julia said. "Whether that's what's going on now, or reminiscing."
For all the siblings it feels kind of meant to be that they ended up as neighbors all those years ago.
"It's crazy," Mackenzie said. "It's almost like fate in my mind. I think we all really lucked out finding each other as friends and teammates and neighbors."
——
IN TOP PHOTO: Notre Dame's Ava Mustico and Shannon Maloney. . . PHOTO 1 BY BRIAN FEES, PHOTOS 2-13 PROVIDED.