STSR PRESENTS THE DRAKE HVAC ATHLETES OF THE WEEK: CORNING'S ANGIE MCKANE AND LOGAN BOOKER
(2022-11-20)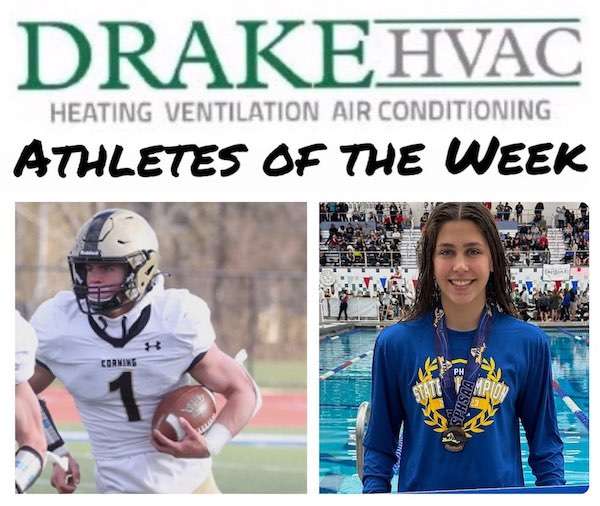 Southern Tier Sports Report
There were a lot of great performances this week, leading to some tough choices for the athlete of the week honors. In the end, it was Corning's Angie McKane and Logan Booker who are the Southern Tier Sports Report, sponsored by Drake HVAC Heating Ventilation Air Conditioning, Athletes of the Week.
Athletes are eligible to be chosen once through September and then when the postseason for sports begin in October they can be chosen again. Athletes can be chosen a total of two times in a season, counting the playoffs.
ANGIE MCKANE
CORNING, SWIMMING
Won a pair of state titles as the NYSPHSAA Swimming & Diving Championships at the Webster Aquatic Center over the weekend.
McKane won the 50 free federation and public school championships.
One event later McKane won the 100 fly public school title. Both the federation winner and McKane went below what had been the old pool record.
McKane hit an automatic All-American time in the 100 fly to earn All-America honors, and she hit the all-American consideration time in the 50 free.
McKane also swam in the 200 free relay and 400 free relay at states for the Hawks.
LOGAN BOOKER
CORNING, FOOTBALL
Wrapped up his career with another strong game for the Hawks.
Booker ran 19 times for 77 yards in the loss to Cicero North-Syracuse in the regional final.
Booker ran for over 1,000 yards each of the past two seasons.