FROM PRESS ROW: MCKANE QUICKLY ESTABLISHING HERSELF AS THE BIGGEST CHAMPION IN A CITY OF CHAMPIONS
(2022-11-20)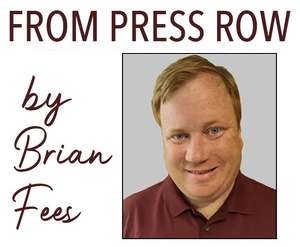 While the Corning Hawks are the City of the Champions, Angie McKane is on her way to being perhaps the biggest champion in school history.
Just look at what the junior has accomplished in the past two years.
Three state titles, one of them a Federation title, a two-time All-American, and pool records at nearly every pool that she swims in.
McKane is not only becoming the most decorated swimmer in Corning history, but she's quickly putting her name up there as one of the best swimmers in Section 4 history.
"It's hard to think about," Corning coach Alyssa Helsing said of McKane winning three state titles. "Obviously we are very proud, our goal is just the next thing and how do we keep it going and making sure they get everything they need from us."
Helsing realizes how quickly the junior is putting her name among the best in Section 4 history.
She's setting records, she has the Section 4 record in both of those events (the 50 free and 100 fy) and I think she's got her eyes set on state records next," Helsing said. "And, those cut times, she was just a couple hundredths off the U.S. Open cut time in the fly."
In the fly McKane was putting up a time would have broken the old pool record, held by Megan Deuel of Pittsford, who now swims at Notre Dame.
The Hawks junior was right next to Tess Howley for a good portion of the race. That's pretty special for the Hawks junior as Howley is the number two ranked H.S. recruit in the nation, headed to Virginia. Howley was 10th in the Olympic Trials in the 200 fly in 2020.
"If you look at current college times she's right up there with the top, elite in the country right now," Helsing said. "And, we have another year with her."
McKane would have been one spot away from making the cut for the third eight at the ACC Championships in the 100 fly.
What makes McKane so good isn't just her success, it's that she is never satisfied.
"I am excited, because I definitely have things to work on, there is definitely potential there," McKane said.
That's the way McKane is, she swims races and immediately thinks, what can I do to get better.
"I was really happy with both of my races," McKane said Saturday. "I know in both of them there is room to improve, so I have things to focus on and things to look forward to."
McKane's name can start to go up with swimmers like Lindsey and Lauren Norberg of Ithaca as some of the best the section has seen.
"It's definitely crazy, I haven't even realized, the more I look at it, the more grateful I'll be," McKane said of being one of the few in the section's history to win three girls' swimming state titles. "They (swimmers like the Norberg sisters) are people to look up to as well."
While they are swimmers to look up to, McKane wasn't following them when she was little. Why? Because McKane wasn't swimming when she was little.
Unlike many start swimmers who have swam since they can remember, McKane didn't start swimming until later in life.
"I wasn't even swimming back then, I started when I was like 10," McKane said.
For Angie swimming started with watching her older sister Katherine swim.
"She's the reason I started swimming," Angie McKane said. "In the beginning when I started getting a little faster that's what motivated me to swim more, because everyone wants to be better than their siblings."
These days McKane is a superstar swimmer and her older sister is one of her biggest fans.
"She's incredibly proud," Angie McKane said. "We have been messaging back and forth throughout the whole meet and she is awesome."
As good as McKane has been, Helsing knows her star will push herself to get better.
"I think athletes are always hardest on themselves," Helsing said. "It's hard to be on the top of a sport and stay on the top of a sport, but she's got a lot of great support in her family, her teammates, her coaches and her school so she was really set up and feeling good.
"We couldn't be more happy and proud, and with that comes pressure to make sure we keep giving her what she needs. She puts in the work and she has some amazing brains over there in coach (Anthony) Furstoss who is giving her what she needs in her training for the varsity season."
Corning already has a couple former swimmers and divers competing at the highest levels of college, with Ryan McNutt swimming at Penn State and Nick Jubilee diving at Villanova.
"We are watching Ryan McNutt swim today at an invitational and Nick Jubilee is off winning as well," Helsing said. "We love seeing our athletes continue on having success in a sport they love and we love."
McKane could have a bright future in the sport. Not only did she win two state titles, but at one point this year she had the top time in the state in four different events (50 and 100 free, 100 fly and 200 IM).
"She's so versatile in sprinting and fly and IM, so she has so many options and she's just proving herself to be in that top tier."
Even at a school that's become the city of champions, McKane is starting to stand out from the crowd.
By the time her career wraps up next year McKane may establish herself as the greatest champion in a school full of champions.
——
PHOTO BY BRIAN FEES