HIGH SCHOOL VOLLEYBALL: HAWKS MAGICAL SEASON ENDS IN STATE FINAL FOUR; KEEGAN NAMED TO STATES ALL-TOURNEY TEAM
(2022-11-19)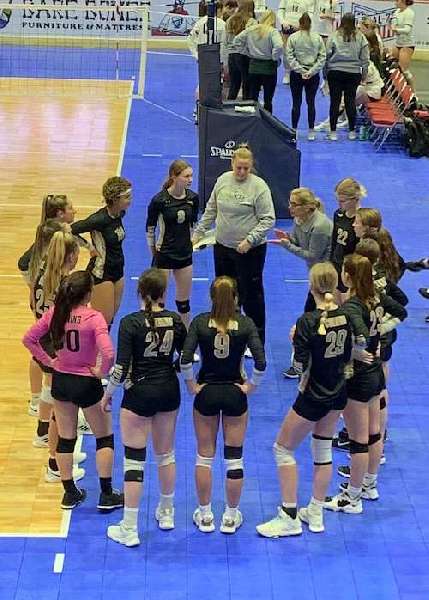 Southern Tier Sports Report
GLENS FALLS — All good things must come to an end, or so the saying goes.
It was a magical season for the Corning volleyball team, making it to the state final four on Saturday at the Cool Insuring Arena in Glens Falls.
The Hawks ran into three of the top ranked teams in the state all year, falling to Shenendehowa 25-6, fighting back hard in the second set in a 25-16 defeat.
Corning had a strong showing against Massapequa, falling 25-19, 25-22 and then the day ended with a 25-13, 25-21 defeat against Lancaster.
"Clearly we were the underdogs in the AA pool at states, having to play Shenendehowa, Lancaster and Massapequa, who are ranked No. 3, No. 4 and No. 5 respectably in the AA schools. The Hawks didn't back down and fought hard all day.
"Even though we didn't bring home a medal, just making it to the Final Four is a huge accomplishment. These girls have nothing to hang their heads about. They have shown perseverance throughout the entirety of the season. The growth this team has made is immeasurable. I'm so proud of them."
Olivia Keegan capped her career by being named to the All-Tournament team.
"It is a great accomplishment, it means a lot to me that I could finish my senior year in the Final Four and being selected for the All-Tournament team," Keegan said.
Nothing on Saturday can take away anything from what the Hawks accomplished this year, winning sectionals, and regionals.
"I am really proud of the hard work we did to get to states," Keegan said. "We played some really good teams today and we put up a good fight. The other teams were much bigger than we are, but we played really hard and I'm glad that we were able to make it so far.
"I am beyond proud of this team and all we have accomplished together."
Shenendehowa will face Lancaster in the final.
——
PROVIDED PHOTOS