NYSPHSAA DIVING CHAMPIONSHIPS: CORNING'S TERWILLIGER EARNS SECOND STRAIGHT STATE MEDAL; HORSEHEADS' BACHERT DIVES AT STATES AGAIN (15 PHOTOS)
(2022-11-18)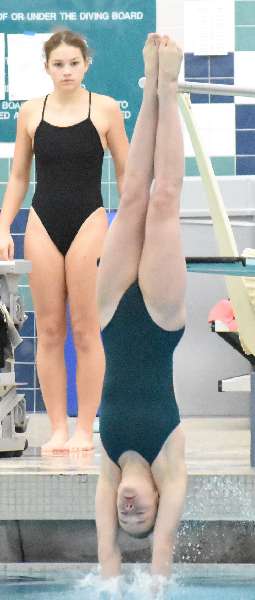 By Brian Fees
Southern Tier Sports Report
WEBSTER — Using a strong final three dives, Corning's Brooke Terwilliger finished eighth in the state at the NYSPHSAA Diving Championships on Friday, to earn a second straight state medal.
Diving at the Webster Aquatic Center the Hawks junior sat seventh after the prelims at 229.65. After the semifinals she was 10th at 349.85, before finishing strong to take eighth at 483.20.
"I am incredibly proud of how Brooke dove today," Corning coach Alyssa Helsing said. "She is resilient and stays in the moment. It is always so close in the top tier of the state meet, and she finished strong in her last three dives.
"It is a great moment as a coach to see a hard-working athlete filled with happiness when they compete well."
For Terwilliger this was a new facility to adjust to, as she had never dove at the Webster Aquatic Center before.
"They are a little hard to get used to, but I think they are okay," she said. "I have been practicing a lot more, it's getting better."
For Terwilliger being to states with her teammates and staying over made the whole experience fun.
"It was really fun and I'm excited to stay another night to watch swimming finals, it's really nice to spend time with my team," Terwilliger said.
The whole experience is a chance to spend a lot of time with the swimmers, who Terwilliger doesn't always get to see as much at meets.
"I can bond with them a lot more because I don't normally get to talk to them very much because we are on opposite sides of the pool during practices, so I get to bond with them and hang out with them a little bit more."
Horseheads Emma Bachert was 35th in the prelims at 178.10 and didn't advance to the semifinals.
For Bachert it was just special to be back at states.
"It's really fun," she said. "I'm really excited to be back with all the new friends I made last year."
Bachert came down Thursday and got used to the boards in Webster, and liked the diving boards a lot.
"I was down here probably about an hour or an hour and a half trying out the boards (Thursday), and I liked them," Bachert said. "They have been really well, I actually like these boards a lot better than Ithaca, so that's good."
This year's experience at states was special for Bachert. A year ago she was the only Horseheads athlete to make states. This year she had a number of her swimming teammates with her.
"It's so much fun," Bachert said. "I love it a lot this year because last year I went alone so it was just by myself, so it wasn't that much fun, but this year I"m with all my friends."
——
IN TOP PHOTO: Corning's Brooke Terwilliger. . . PHOTOS 1-14 BY BRIAN FEES. . . PHOTO 15 PROVIDED