NYSPHSAA SWIMMING CHAMPIONSHIPS: CORNING'S MCKANE FASTEST IN PRELIMS IN 2 EVENTS; HAWKS HAVE TWO RELAYS SWIM AT STATES (18 PHOTOS)
(2022-11-18)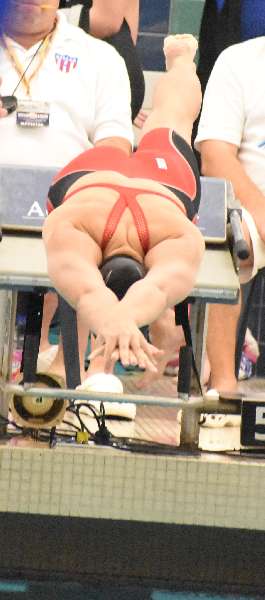 By Brian Fees
Southern Tier Sports Report
WEBSTER — The state prelims went about as well as Corning's Angie McKane could have asked.
The Hawks junior had the fastest time in the prelims in the 50 free, and the fastest public school time in the state in the 100 fly.
What made things even better for McKane is that she feels like she can get even faster during tomorrow's finals in the NYSPHSAA Swimming & Diving Championships at the Webster Aquatic Center.
"I am happy with where I placed with my swims and I definitely think there is still room to improve," McKane said. "I am excited that there is room to improve. I think my flip turn (in the 50 free) can be a lot quicker and so I'm excited to see how I do tomorrow."
McKane swam a 23.39 to go .31 faster than anyone else in the field in the prelims. She is also close to the pool record of 22.25.
In the 100 fly McKane went 54.66 to go below the pool record, and more than a half second faster than any other public school swimmer in the event. But, the times were off for many of the fly swimmers and McKane's time was likely actually faster than what was recorded.
"I am definitely excited that hopefully that wasn't my time," McKane said. "I am happy that I still went lower than I originally came in with and I'm excited to see if it turns out to be a true time tomorrow what I'm capable of."
McKane is excited to shoot for the pool records tomorrow.
"I think I have a better chance of getting the 50 free pool record, but I'm excited I get to swim against Tess Howley tomorrow and swim right next to her, she probably will get the pool record herself, but just to be able to say I beat Megan Deuel, she's committed to Notre Dame, I guess to be able to say I beat her time (as the ole pool record) makes me happy."
Deuel, a Pittsford graduate, is a national qualifier at Notre Dame.
Howley, the Federation champion in the 100 fly last year while McKane won the public school title, swam a 53.03 on Friday in the fly.
For McKane the goal tomorrow is to hit the Automatic All-American times in her events as well.
"That's definitely my goal tomorrow, I want to hit a little under 54," McKane said. "Even in my 50 free, I hope to go All-American as well."
McKane just wants to go faster tomorrow in everything she swims.
"All of them honestly," she said. "My 100 free in the 400 relay wasn't the fastest, but it was also the end of the meet and I was tired, so hopefully tomorrow it will be a little better. I'm happy with how I swam today."
McKane's went below her seeds, which has her further ahead of the field after the prelims than she was seed wise before the meet.
"I'm very excited, it boosts my confidence a little just knowing I have a pretty big margin between both events between first and second, so hopefully that will boost my mentality as well," McKane said.
"Especially in the 50 free, I'm happy to see I swam a little faster than my time coming in and the others went about the same, if not a little slower, having the potential there to win is pretty exciting."
McKane has liked the experience at the pool in Webster, after swimming at Ithaca for states last year.
"I think I like the wall a little bit better," mcKane said. "The opposite wall from the block a little bit better than Ithaca, but Ithaca is closer and I've swam it a lot more, so I don't know. I like the blocks a lot more though."
If McKane wins a couple state titles, she'll definitely like Webster that much more.
"Yes, definitely, especially if I get a pool record," McKane said.
McKane teammed up with Maria Kuksenkova, Carolyn Heckle and Kara Peters in both the 200 free relay and the 400 free relay.
The 400 free relay will swim in the C final after taking 25th in the prelims in 3:45.44. The 200 free relay had a strong race, but were disqualified after a swimmer left early.
""It's kind of crazy and fun for me as a freshman," Kuksenkova said. "It's kind of crazy. I wasn't expecting to be here, it was wild."
Heckle enjoyed another chance back at states.
"I came last year so it's kind of cool to come two years in a row, the relays are always fun because you get to do it as a team," Hackle said. "We have the same relay team (as last year) and graduated one person and to have Maria here as a freshman is pretty cool. We get to call up more people and get them experience."
The Hawks were happy with the swims.
"It could have been better, but I feel like we did the best we could for today," Kuksenkova said.
The Hawks enjoyed having a chance to stay in a hotel and have a fun trip together.
"The hotel is definitely a really nice aspect of it," Heckle said. "When it was in Ithaca we had to drive up every day, so it's nice being able to stay up here and not have to worry about getting in the car for 45 minutes."
The Hawks are excited to swim again tomorrow.
"Getting ready for tomorrow," Heckle said.
"Tomorrow is our big shot," Kuksenkova said.
——
IN TOP PHOTO: Corning's Angie McKane. . . PHOTOS BY BRIAN FEES