HIGH SCHOOL VOLLEYBALL: A STATE CHAMP AS AN 8TH GRADE SOFTBALL PLAYER, KEEGAN BACK IN STATES AS A SENIOR AS HAWKS HEAD TO GLENS FALLS
(2022-11-17)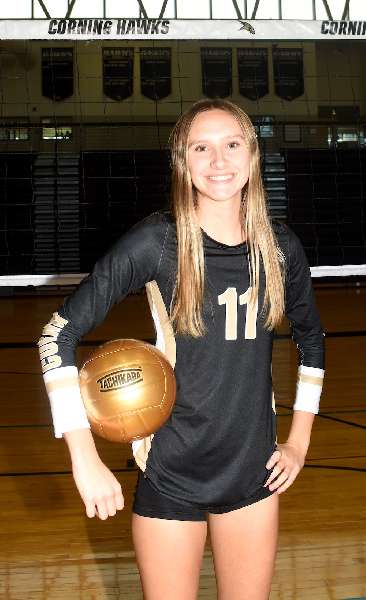 By Brian Fees
Southern Tier Sports Report
Olivia Keegan was just an eighth grader the last time she took a trip to Glens Falls to play in states.
In 2019 Keegan was a part of the Corning Hawks softball team, starting all season at second base, and delivering the game-winning hit in the 11th inning as the Hawks beat Cicero North Syracuse for the title.
Now, Keegan is back at states, this time as a captain of the volleyball team making the trip to Cool Insuring Arena to play in the Final Four.
"I never really expected to go back, so it's really cool I get to go my senior year," Keegan said.
The last time she went to states Keegan was just an eighth grader, enjoying the rid and not really thinking about what it meant.
"I was so young, I didn't really know what it was even, you don't really realize it," Keegan said. "Before, I didn't really know, we just kept playing and eventually we had a medal. But, now it's so different. I just want to win and finish my season with aw in."
Years later, as Keegan looks back, she realizes just how magical that softball run was.
"Now that I'm a senior, and everything is almost over, I look back and it's such a big thing and I feel like I didn't appreciate it as much and I'm glad I got a chance to kind of appreciate it more," Keegan said.
The Hawks two captains — Keegan and Jenna DiNardo — have both been to states already in their careers, Keegan on that softball team and DiNardo as the leader on last year's girls' basketball team.
Having captains who have been to states can only help the younger girls as they adjust to this moment.
"I think it's actually really helpful that we can help them not to be so overwhelmed when we get there," Keegan said. "Because it is big."
For Keegan, she's a lot more ready for this atmosphere than she was when she helped the softball team win.
"I'm older now, I'm more mature, I'm not as nervous now," she said. "I have nothing to lose now. I'm more confident about my skills now."
The only person that Keegan knew who made it this far in volleyball was her aunt, and now she carries on that family tradition.
"It's really exciting, the only other person I ever knew who went for volleyball was my aunt," Keegan said. "It's just exciting, I get to do that.
"I wan't expecting it. I'm glad we got this far and I just want to keep winning."
A LOOK AT THE MATCHUPS
Corning heads into the Final 4 where they will face Shenendehowa, Massapequa and Lancaster.
The Hawks open with Shenendehowa at 8:30 a.m. In the fourth round of the day they take on Massapequa and they play Lancaster in the final round of the day.
SHENENDEHOWA, SECTION 2 CHAMP
Shen went 45-6-1 on the year and they swept Baldwinsville in the regional final.
In the regular season Shen swept Lancaster 3-0, and then also beat them 2-1 in a tournament.
They are led by 6-foot, 2-inch Reagan Ennist, who has 464 kills on the year and 78 blocks.
5-10 Grace Almeida has 174 blocks and 258 kills, while 6-2 Sabrina Kinkaid has 255 kills.
Kasia Barletta has 563 digs and Emma Paliwodzinski has 1,070 assists.
MASSAPEQUA, SECTION 8 CHAMP
Massapequa is 30-2-1 on the year. They have five girls with 100 plus kills on the year, but none with over 200 kills. They beat Commack 3-1 in the regional final.
LANCASTER, SECTION 6 CHAMP
They are 23-3-1 on the year and beat Frontier 3-0 in the regional final.
They lost the two matches to Shen this year. They have multiple six-foot plus players in Madison Francis (6-1) and Allison Farmer (6-0).

HAWKS EXCITED FOR THE CHALLENGE
For Corning's players they are excited to get a chance to play in states.
"I think they are really excited," Corning coach Barb Smith said. "They have been working hard. Today was the first day we actually had a full team since we returned from regionals. We had a couple of girls who were ill yesterday and so we weren't full force and two more on Monday, so we are full force today and working hard, watching film and they are ready to go.
"We know Shenendehowa, we have been in a tournament with them. They are very good. We have been watching a lot of film, trying to see who they are and what they have and we are definitely outsized physically, but that's okay. They always say great things come in small packages, hopefully we can see that. I know Massapequa has a couple girls over 6-foot, a couple 6-1, 6-2 and we talked about you have to be smart at the net and make good choices to get the ball around them. Hopefully that's what they do and we are alright."
The players are excited to make the trip to Glens Falls.
"I'm so excited, I don't want to stop playing," Keegan said. "It's so exciting. Obviously, we are in here when winter sports is starting. It's cool that we can keep playing longer than we normally would."
When you start sharing the gym with the basketball programs that's when you know the season has gone far for the Hawks.
"We re a young team, so we really have to fight to hold our ground there, but I think we can do that," Keegan said.
When the season started few thought the Hawks would be this far. They dropped both regular season matches to Ithaca, who won the division title during the regular season.
However, in the playoffs the Hawks swept Ithaca in the sectional final, swept the sub-regional round and won the regional final 3-1.
"I said it before, it's a totally different team than it was at the beginning of the season," Smith said. "I think if you had asked any of us if we would be where we are, of course we'd love to be, but I don't think we thought that. But, they just started woking together, and I don't know what happened, but they gelled and it's working."
Through the sectional final and sub-regional round the Hawks got off to a fast start, but in the regional final they dropped the first set, before rallying to win.
"WE know we don't ever want to be behind to start, but if it happens, like it did at regionals, you have to come up with another game plan and figure it out and that's what they did," Smith said. "They talked, a lot of energy, a lot of energy from the sidelines. Every person on the team, whether they are talking on the court, or on the sidelines, has made a contribution to where we are today. I'm happy for them, I'm excited, they are excited, hopefully we can bring home some hardware."
Winning would be special, but Keegan wants to just focus on each match as they come.
'It would obviously be cool, I'm kind of thinking one game at a time," Keegan said. "Not too far ahead, but it would be awesome to have that (a state title)."
The Hawks know they will face tough tests in states, but they are excited for that challenge.
"It's exciting, and it's more fun to play against better teams anyways, so I think we are going to have a lot of fun," Keegan said. "I know they are a lot bigger than us, so I know we have to give all effort, and since we only have two sets, we have to push along and start strong, because sometimes we can start a little scared, and we have to play up to that level.
"We have just to to be able to get around them (the bigger girls), and do whatever we have to do to get points."
With the state final four it's like heading to a tournament, two sets against each team in pool play on Saturday, which means that teams need to get off to a fast start in each match.
"It's very similar to a tournament, wen you go you play the teams you play, the same exact two sets to 25," Smith said. "You keep your record and that's how they base it and what bracket you are in, so we are familiar with it, it's just you know that's all you have, you just have two sets and you move onto the next one.
"I know our schedule, we have a long schedule, it's drawn out. We play at 8:30 in the morning Saturday, then we sit for two sets, then we play, then we sit, then we play so we play first and last so it's a long day."
Getting up early and playing well at 8:30 is crucial for the team.
"We talked about that today and we have to come out," Smith said. "Even though it's 8:30 in the morning we have to come out like it's not 8:30 in the morning. Come out energized and keep each other up. Make a mistake, shake it off, learn from it and move on
The players know that energy early is crucial.
"That's kind of what we have to focus on right now," Keegan said. "Starting off with a lot of energy, kind of like our Ithaca game, starting off excited. Even though it's 8 in the morning we have to be ready to play."
The player know they have to have that confidence from the start.
"It's all about confidence," Keegan said. "If you are starting up ahead and other teams are scared of you. You have to start out strong."
One thing that helps the Hawks is they will head up today and stay in Glens Falls on Friday.
"The thing that's different than the regional final, we weren't Abel to go up the night before, we are going to be able to go up the night before, so at least they'll get a good night sleep and not have to be on the bus the four and a half or five hours," Smith said. "I attributed part of our first set to to Mamaroneck, I felt like it was sleepy legs, tired, because you were on the bus so long. You get there and have an hour, it's not enough time. Hopefully getting there having a good night's sleep, breakfast in the morning, we'll be ready to go."
The players are happy to get up there Friday and get ready for Saturday and Sunday.
"For regionals, the bus ride there, we came though, but the bus ride before wasn't ideal, so I'm happy we get to kind of rest, eat and get good sleep," Keegan said.
The players are just excited to be one of the final four teams in the state, and to see all the other teams in the state in all the classes in Glens Falls.
"I'm excited, I think it's going to be a cool atmosphere," Keegan said. "I think it's been a lot of fun."
The Hawks senior has that one state title from her eighth-grade year, and adding another one this year in another sport would be special.
"I would love to have two medals on my rack," she said.
——
IN TOP PHOTO: Corning's Olivia Keegan. . . PHOTOS BY BRIAN FEES