HIGH SCHOOL GIRLS' SWIMMING & DIVING: HORSEHEADS SWIIMMERS, DIVER READY FOR TRIP TO STATES
(2022-11-17)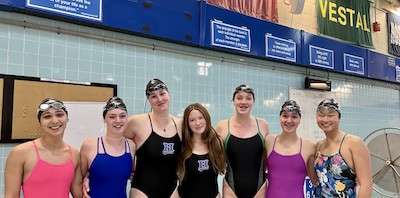 By Brian Fees
Southern Tier Sports Report
Horseheads swimmers had a goal. They dreamed of getting a chance to swim at the state meet. There was plenty of success, but all along they dreamed of the end goal of getting to states.
Now six swimmers, and a diver, for the Blue Raiders will head to Webster to swim in the NYSPHSAA Championships.
"As we enter states, I have an unbelievable blessed feeling," Horseheads coach Megan Janeski said. "Our athletes going to states are the hardest working girls. Every single one has dreamed of this from the time they were little watching the older girls swim. I have given my all to these girls and they have taken everything we've worked on and put it to work.
"Seeing their hard work pay off is a phenomenal feeling and a life lesson for these girls. You don't get things easy in life. You work, and you work hard. This is the results of all their efforts they have put into the pool. Care, commitment, work and team first attitude."
Corning has three seniors — DeLaney Woodhouse, Grace Shelhamer and Gracie Ringer, and three underclassmen — Sibby and Anna Lowe and Gabby Janeski — who will make up their two relays at states. The 200 free relay is seeded 15th at 1:40.68 and the 200 medley relay is seeded 29th in 1:53.08.
"I'm not going to lie, I cried when I knew both my relays were able to go to states," Megan Janeski said. "I have a top-notch group of girls on those relays, and every single one of them deserves a spot at states, not only for their talent, but for all their hard work.
"They are driven athletes, who go to school for six hours and then get in the pool for another 2-3 hours and just hammer down the yardage in the pool. My seniors DeLaney, Grace and Gracie get to have this once in a lifetime experience as well, and I couldn't be happier for them. I am extremely exited for the younger ones to have this opportunity as well, Sibby, Gabby and Anna. The three of those girls have swam together since day one. Sibby and Gabby have been on the team for four years already and have been wanting this moment so bad. We are so fortunate to have them have this moment."
Anna Lowe, who is a first year varsity swimmers, is swimming in the 50 free, seeded 17th at 24.49 and the 100 free, seeded 33rd in 54.07.
While Lowe just joined the varsity swim team this year, she's had plenty of experience in the sport in the past.
"To be honest, I was not shocked with Anna making states," Megan Janeski said. "She has been swimming since she was very little and dominating since she hit the pool at a young age. Anna is a strong, confident girl. Anna is ready to go and has worked hard. She will definitely come out of states with her heart full and have done amazing."
Emma Bachert is at states for the second straight year in diving, seeded 26th at 468.40.
"I am so excited for Emma to be at states again," Janeski said "Emma, like all my states girls, works hard and has an amazing diving talent. She has overcome a pretty severe injury/surgery and we are beyond amazed at the comeback she has had. Emma deserves this."
——
PROVIDED PHOTO.