COLLEGE WOMEN'S BASKETBALL: ELMIRA'S SHAZER, FISHER LEAD MARIST TO START SEASON
(2022-11-16)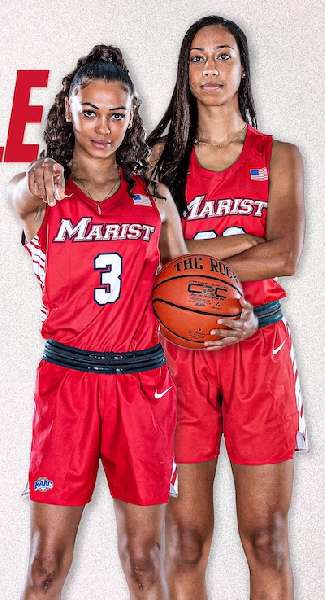 Southern Tier Sports Report
Elmira graduates Zaria Demember-Shazer and Kiara Fisher are the top two scorers this season for the Marist women's basketball team.
Shazer averages 11.7 points and six boards a game, tops on the team in both, and she has five assists, tied with Fisher for tops on the team.
Fisher is second on the team in scoring at 10.3 points a game and has the five assists.
Another former Section 4 star, Meve Donnelly of Susquehanna Valley, is third on the team at 5.7 points and 5.3 rebounds a game.
Marist is 0-3 on the year after three non-league matchups. Shazer led the way in a loss against Villanova with 18 points, eight boards, two blocks and a steal, while Fisher had 11 points and four boards.
In a 65-61 loss to Penn it was Shazer and Fisher each scoring 12 points. Shazer had five assists and eight boards and Fisher had five steals, four assists and three boards.
In a game against Green Bay the leading scorer was Donnelly with a double-double with 13 points and 10 boards. Fisher had eight points, five boards and two steals and Shazer had five points and three boards.
——
PHOTO COURTESY OF MARIST ATHLETICS.