STSR PRESENTS THE DRAKE HVAC ATHLETES OF THE WEEK: CORNING'S SARAH LAWSON AND GABE CORNFIELD
(2022-11-13)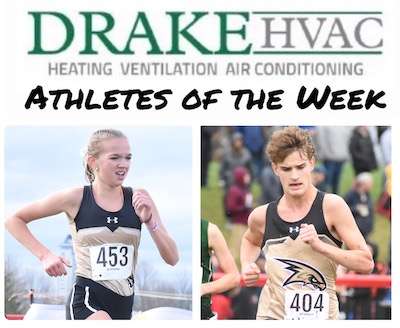 Southern Tier Sports Report
There were a lot of great performances this week, leading to some tough choices for the athlete of the week honors. In the end, it was Corning's Sarah Lawson and Gabe Cornfield who are the Southern Tier Sports Report, sponsored by Drake HVAC Heating Ventilation Air Conditioning, Athletes of the Week.
Athletes are eligible to be chosen once through September and then when the postseason for sports begin in October they can be chosen again. Athletes can be chosen a total of two times in a season, counting the playoffs.
SARAH LAWSON
CORNING, GIRLS' XC
The junior was a 12th place finisher at states as a sophomore. On Saturday at the NYSPHSAA Class A Championships, she cut that number in half, finishing sixth in 18:44.
Not only was Lawson sixth in Class A, she had the eighth best time of any runner in any of the four classes in the state. a total of 459 runners between the four state races.
On top of her sixth place finish individually, Lawson led the Hawks to a fourth place finish as a team, matching the best finish ever by the Corning girls at the NYSPHSAA Cross Country Championships.
GABE CORNFIELD
CORNING, BOYS' XC
A little over a week ago at sectionals the Corning senior was dealing with sickness, and he was the eighth runner for the Hawks on the day.
At the state meet Cornfield turned in a dominant performance, earning an individual state-medal with an 18th place finish in 16:51 to help the Hawks win their second straight state championship as a team.
——
PHOTOS BY BRIAN FEES