HIGH SCHOOL GIRLS' CROSS COUNTRY: ELMIRA'S MORDVINOVA EARNS STATE MEDAL TO CAP CAREER; EIGHTH-GRADER DEVLIN FINISHES 51ST (13 PHOTOS)
(2022-11-12)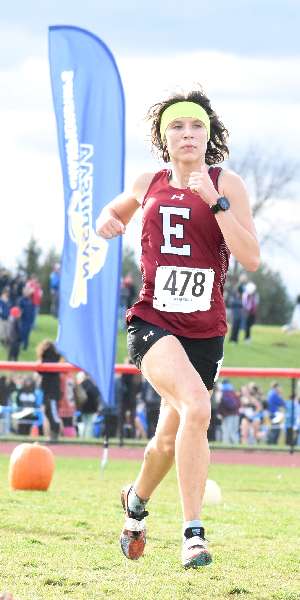 By Brian Fees
Southern Tier Sports Report
VERONA — Vicky Mordvinova capped her high school career with a state medal, while eighth-grade teammate Ella Devlin had a 51st place finish in her first NYSPHSAA Class A Cross Country Championship at Vernon-Verona-Sherill High School.
Mordvinova had a 16th place finish in 19:23 to earn her first career state medal for the Express.
"It's amazing," Mordvinova said. "I actually never thought I would (medal). Back in eighth grade I could never imagine I would actually medal at states. It's incredible."
The Express senior thought she could have started a little better, but she's happy with the way everything ended up.
"I definitely feel like my start could have been stronger in my first two miles," she said. "But, I can't complain. I ran it, did it, I finished, I medaled, I can't complain."
The race went out fast and Mordvinova had paced herself a bit to begin the race.
"A lot faster," Mordvinova said of the race. "I guess I was used to my other races going too fast. This one I kind of went the same way I do, but I definitely should have gone out faster."
While the course was wet and muddy that didn't really impact the Express standout.
"Honestly, it didn't really affect me," Mordvinova said. "It's cross country. You are bound to get a little muddy, bound to get a little wet. This is like true cross country, it felt fine actually."
Devlin, was the fourth finisher out of Section 4 as an eighth-grader, finishing with a time of 20:33.7.
"Crazy, it's just unbelievable," Devlin said of running at states. "I can't believe I made it here. I worked so hard to get here and I'm so proud of myself for making it."
The whole experience was something different for Devlin.
"I did not expect it to be that crazy, and there were so many more people than I expected," Devlin said.
Having Mordvinova there made things better for Devlin in her first state meet.
"Way better having Vicky with me," Devlin said.
And, Devlin made the whole experience special for Mordvinova.
"She is so fun," Mordvinova said. "I love Ella. She's such a hard worker and honestly, tis' so much fun having someone else to help along."
——
IN TOP PHOTO: Elmira's Vicky Mordvinova. . . PHOTOS BY BRIAN FEES