FROM PRESS ROW: THREE SPORTS, THREE TITLES, CORNING'S DINARDO QUICKLY BECOMING MAYOR OF THE CITY OF CHAMPIONS
(2022-11-07)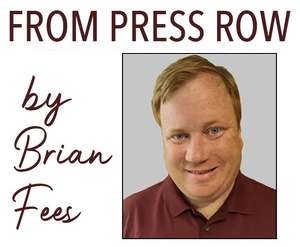 Over the past two years Corning has firmly established itself as the City of Champions.
With her success in every sport she plays Jenna DiNardo is quickly become the City of Champions mayor.
A year ago DiNardo helped the Hawks make a magical run in girls' basketball to sectional and regional titles as they reached the state final four.
Fo ran encore Dinardo was a driving force behind the Corning girls' lacrosse team winning its first sectional crown since 2017 as they ended the reign by Ithaca.
DiNardo was only missing one gold medal for her trophy case and that was in volleyball. She completed her gold medal collection on Saturday when she helped lead the Hawks volleyball team to a sectional title, where they beat top-seeded Ithaca in a three-set sweep.
"I was telling them, I was like guys, states is so much fun, the experience is insane," DiNardo said. "I want to do it for volleyball. And, everyone was just like, they agreed."
Completing the trifecta of sectional titles was special for the Hawks senior.
"It's great, its' awesome, you couldn't imagine a better thing," she said. "I wanted all three very bad, so it's an accomplishment."
The volleyball title was just the latest for the City of Champions. Just what have the Hawks done this fall? The list is impressive.
* The girls and boys soccer teams each won sectional titles in the same year. The boys winning their third straight. The boys then went and won their sub-regional game as well, with both teams making it to a regional final.
* The Corning boys and girls cross country teams each dominated their ways to repeating as sectional champions, and Sarah Lawson and Ashton Bange each repeated as individual champions.
* The Corning football team is hosting the Section 4 title game on Friday. They already won the Class AA divisional regular season title.
* Angie McKane was absolutely dominant in Section 4 swimming, setting meet records in three events, and hitting two all-American consideration times. She's ranked tops in the state in two events as she prepares for states.
* Brooke Terwilliger won the Section 4 diving championship and is headed to states.
* The Corning Hawks golf team captured the division title.
There is perhaps no one who exemplifies the success Corning is having better than DiNardo.
She's a star player on three teams that have won championships, and two of those three teams were underdogs on their way to titles.
While the Corning girls' lacrosse team is a perennial power who had a dominant regular season, they did have to dethrone Ithaca, who had kept Corning from a title since 2017.
In basketball last year, and volleyball this year, the Hawks were not the top seed in the tournaments.
Last winter the Hawks had to beat the STAC Champion Elmira Express in the final to capture the crown.
On Saturday the Corning volleyball team had to beat top-seeded, STAC West champion Ithaca, who had defeated the Hawks twice in the regular season, to capture the crown.
Not only did Corning beat Ithaca, they swept the match, coming out with an energy that you rarely see at any level.
The biggest attribute that the Corning volleyball team had, is the same thing the basketball team and lacrosse teams had with DiNardo last year. They had determination.
No matter the opponent, no matter the situation, they just never quit. They fought every point of Saturday's match like it was the final point of their lives.
"We were the underdogs in those (basketball and volleyball), so it feels even better," DiNardo said. "They come in with high confidence, and we are ready.
"We just really want it when it matters. I think all of us came together and said, yes, we want it really bad."
Being a senior this year just motivated DiNardo to want to get this volleyball title even more, since it was her last opportunity.
"I was like I need a volleyball one,' she said. "I was ready, I was like we have got to get it, we have to."
DiNardo has been part of league titles and sectional titles, and even regional titles, the one thing she still wants is a state title.
"That's on my mind," DiNardo said.
For most schools the Fall seasons are over, and they are preparing for winter sports.
For Corning, they still have volleyball and football teams left, and cross country teams and individuals, and swimmers and divers all looking for state titles still.
It's already been a magical fall for the Hawks, and there is still time to add to the City of Champions legacy.
——
PHOTO BY BRIAN FEES