HIGH SCHOOL CROSS COUNTRY: ND'S YOUNG EARNS FOURTH TRIP TO STATES; EDISON GIRLS HAVE 3 TOP 20 FINISHES AS BOTH SCHOOLS HAVE SOLID DAY AT SECTIONALS (24 PHOTOS)
(2022-11-03)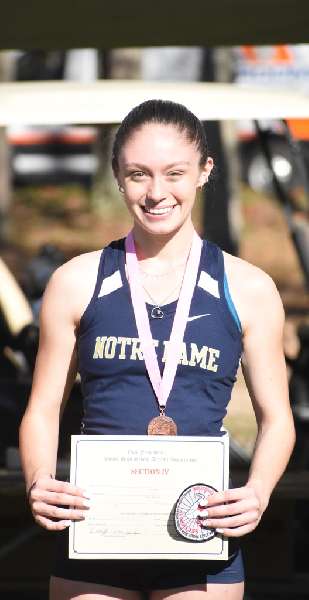 By Brian Fees
Southern Tier Sports Report
CHENANGO — There are some inevitabilities in life. Death, taxes and Piper Young qualifying for the state cross country championships.
Every year since eighth grader Young has earned a trip to the state championships, it's four trips with one year wiped out by Covid.
Thursday was Young's final Section 4 Championships at Chenango Valley State Park, and she again qualified for states with a sixth-place finish in Class D in 21:48.60.
"I'm so excited," Young said. "It's definitely bitter sweet for it being my last time. It feels like these last six years have flown by, but I have a great support system behind me, it's awesome."
For Young last week wasn't the best race of her season at the IAC Championships, but that just motivated Young to have a big race on Thursday.
"It's always difficult coming off a hard race, but it always gives me motivation to bounce back," Young said.
The Notre Dame runner ran right with a pack of the top runners in the race, and that was her goal all race long.
"I knew the top individuals would lead me to a fast time," Young said. "So, I stayed with them and knew they'd run fast and knew I'd run fast if I stayed with them."
A year ago Young made it to states but wasn't at her healthiest during sectionals and states. This year Young is healthy as she heads into states.
"I am excited to go back to states," Young said. "Health always comes first, but I'm very excited to go back to states healthy this year. It's definitely a mental toughness game before anything else."
When you make states every year there can be high expectations, but that's something that motivates Young.
"It's hard to live up to expectations, but the pressure drives me and I think I do well under pressure," Young said.
Young would consider running in college, but right now it's not in her plans.
"If an opportunity comes up I'd consider it, but not right now," she said.
And, that means that these may be the last races of Young's cross country career and she's not going to hold back at all.
"I always have to put everything I've got on the line, I don't want to leave with any regrets," Young said.
Thursday was sunny and warm, with a dry course, something that isn't always the case at sectionals.
"In all my six years this is definitely the nicest season we've had as far as weather goes, and this is the most beautiful day we've ever had," Young said.
The day started cooler, but warmed up by the time the races began.
"It was chilly when I got here, but it started warming up quick and I knew it was going to be a beautiful day," Young said. "I love the sun, always love racing in the sun."
The Crusaders had one other girls' runner on the day as freshman Claire Devlin finished 22nd in her first sectional meet in 24:52.10.
Gavin Meier led the boys' finishers for Notre Dame with a 23rd place finish in 19:32.70.
Cameron Kraft was 60th in 21:56.90 and Neal Moore was 66th in 22:39.70, while Marino Cagetti was 79th in 26:26.40.

SOLID DAY FOR THE SPARTANS
Thomas Edison's girls had three finishers among the top 20 to help pace their day in the Class D Championships.
Maura Heraghty had a 14th place finish in 23:41.50 and Mayla Falank was 18th in 24:39.60 followed by Josie Burleigh in 24:45.30.
Edison finished third as a team with 78 points. Delhi won at 33 points.
Sophia Mirando was 41st in 27:27.50 and Hannah Lasko was 46th in 28:02.10, while Haylie Rosenthal was 52nd in 33:39.70.
The Edison boys finished 10th at 226 points, with Delhi winning at 51.
Ethan Smith was 44th to lead the Spartans in 20:56.10 and Jameson Duggan was 58th in 21:49.40.
Landon Allen was 64th in 22:32.70 followed by Darius Kelley in 65th in 22:37.60.
Zachary Sternfels was 71st in 23:15.50 and Martin Benjamin was 80th in 26:39.80, while Carter Smith was 89th in 32:11.20.
——
IN TOP PHOTO: Notre Dame's Piper Young earns trip to states for the fourth time. . . PHOTOS BY BRIAN FEES