ON TAP TODAY: SUB-REGIONAL SOCCER; VOLLEYBALL SECTIONAL SEMIS AND SECTIONAL SWIM PRELIMS ON THE SCHEDULE
(2022-11-02)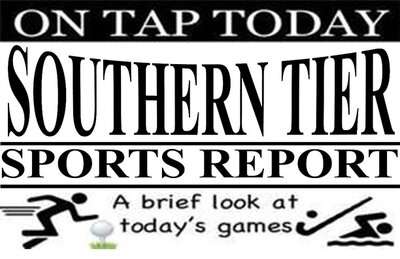 Southern Tier Sports Report
It's a busy day of postseason events for area teams, with four events on the schedule today, including a sub-regional soccer game.
BOYS' SOCCER
CLASS AA SUB-REGIONAL GAME
CORNING VS. WARWICK AT MAINE-ENDWELL, 5 P.M.
The Hawks, ranked 11th in the state at 14-1-1, take on Warwick, ranked 10th in the state at 13-2 on the year. The Hawks only loss, and tie, on the season are both against Vestal, ranked fourth in the state in Class A.
VOLLEYBALL
CLASS AA SEMIFINALS
ELMIRA AT CORNING, 5:30 P.M.
The Hawks host the Express in volleyball action. The winner advances to face Ithaca in the sectional final. Corning is 11-4 and Elmira is 7-10. The second-seeded Hawks won both matchups with the third-seeded Express 3-0.
CLASS A SEMIFINALS
HORSEHEADS AT UNION-ENDICOTT, 5:30 P.M.
The third-seeded Blue Raiders are at the second-seeded Tigers. Horseheads is 5-7 on the year and U-E is 8-6 not he season. Horseheads won the lone matchup between the teams this year, 3-0.
SWIMMING & DIVING
CLASS A PRELIMS AT ELMIRA, 4:30 P.M.
Horseheads, Corning and Elmira all compete in sectionals at Elmira. The top swimmers in sectionals advance to Saturday's finals.
CLASS C PRELIMS AT WATKINS GLEN, 4:30 P.M.
The Notre Dame Crusaders head to Watkins Glen for the prelims for Class C sectionals. The top swimmers from the prelims advance to the finals Saturday.