THE SPORTS REPORTS: COWANESQUE VALLEY'S WOODRING HEADLINES FRESHMAN-LADEN LIST AS ALL-REGION GIRLS 'NEWCOMER OF THE SPRING'
(2022-07-02)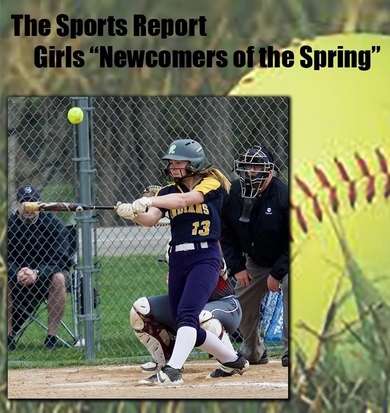 The Sports Reports
Cowanesque Valley freshman Ashley Woodring opened eyes immediately on NTL softball diamonds this spring, and put together an offensive season that rivaled anyone in the region, regardless of grade. She is
The Sports Reports
' 2022 All-Region Girls "
Newcomer of the Spring
."
Woodring burst onto the NTL softball scene, racking up hits (36) and hitting .578, while getting on base two out of every three times she came up to bat (.670).
Woodring equaled her 18 singles on the year with 18 extra-base hits (nine doubles, three triples, and six home runs) to compile an astounding 1.078 slugging percentage, and a 1.738 OPS.
She added 36 runs scored, 21 RBI and struck out just four times this season.
The 2022 All-Region Girls "Newcomers of the Spring"
Ashley Woodring, softball, Cowanesque Valley — freshman:
See above.
Sophia ReSue, track & field, Corning — freshman:
ReSue helped lead Corning to a state medal in the 1600 relay and she was also a state qualifier in the high jump, with a top jump on the year of 5-feet, 3-inches. She also earned freshman All-America status at Nationals.
Anna Dunn, track & field, Towanda — freshman:
Dunn anchored the Towanda 4x400 state medaling relay, one that that not only took fourth in the state, but also set a new school record. She also qualified for states in the open 400 as a freshman.
Gracelyn Laudermilch, track & field, NEB — freshman:
Laudermilch was a state qualifier in the 3200, taking second at districts, while also running the fastest 800 in the NTL. She could be a future state qualifier in all the distance events going forward.
Megan Wolf, softball, Horseheads — freshman:
Wolf played a key role in helping the Blue Raiders win the Section IV title. Shepitched both the sectional semifinal and final, and in the sectional final she also hit a game-tying home run. She had a 2.71 ERA with 47 strikeouts for the Blue Raiders this year, in a season that included a no-hitter.
Anna Lowe, lacrosse, Horseheads — freshman:
Lowe scored 21 goals and had six assists this year for the Section IV, Class B champions this spring.
Annika Gehman, track & field, Wellsboro — freshman:
In her first year in the sport, Gehman placed second at the NTL Invite in the triple jump with a 33-feet, 1 1/4-inches, then placed 11th at the District 4 meet with a leap of 32-feet — just 4 1/4- inches off a medal. In the high jump, Gehman placed third at the NTL Invite, jumping 4-feet 8-inches, then cleared 4-10 at Districts — missing out on a medal because three other girls cleared the same height in fewer attempts. She placed fifth in the long jump at the NTL meet with a PR jump of 14-feet, 10 1/2-inches, qualifying for, and finishing 17th at Districts.
Olivia Champluvier, softball, Troy — freshman:
Champluvier hit .389 with three doubles, and home run as part of a strong freshman class for the Trojans. She also struck out 29 in 40 2/3 innings of action in the circle.
Erin Luther, softball, Tioga — freshman:
Luther hit .388 (26 hits in 67 ABs) with two doubles, five triples, five home runs, 28 RBI, and 22 runs scored. She walked seven times for a .461 on-base percentage, and had a .791 slugging percentage for a 1.252 OPS. … In the circle, Luther posted a 2-3 record with 36 strikeouts in 25 innings, flashing potential for big things to come.
Sara Bronson, track & field, Athens — freshman:
Bronson finished second in the 3,200-meter run in a school record time at the District 4 Championships. She placed seventh in the 1,600-meter run. At the NTL Championships, Sara Bronson won the 1,600-meter run, placed second in the 800- and 3,200-meter runs, and was on the winning 3,200-meter relay.

RaeAnne Feeko, softball, Tioga — 8th-grader:
A slick-fielding shortstop, Feeko was one of the best first-year varsity players in the region. She hit .397 (29 hits in 73 Abs) with four doubled, three triples, two home runs, 23 RBI, 33 runs scored, and eight stolen bases. She walked six times for an on-base percentage of .443, and had a .616 slugging percentage for a 1.059 OPS. … Defensively, she committed just three errors in 63 defensive chance for a .952 fielding percentage.
Addie Smith, softball, NP-Liberty — freshman:
Smith had a very solid offensive season in helping the Lady Mounties make an 11-game improvement. She batted .300 with 21 hits, including eight doubles and one triple, and also had 16 RBI and 18 runs scored. In the circle, she was 5-4 with a 2.53 ERA, and 63 strikeouts in 44 innings pitched.

Lexi Urena, softball, Wellsboro — freshman:
Urena banged out seven home runs, and hit .393. She had an on-base-percentage of .479 and a slugging percentage of .836 for a 1.315 OPS. She also had four doubles and a triple among her 24 hits, to go along with 26 runs scored, and 28 RBI. … In the circle, she threw 25 innings and struck out 19.