TRAVEL SOCCER: LOCALS HELP SCSC REBELS PICK UP HOME VICTORY (24 PHOTOS)
(2022-06-26)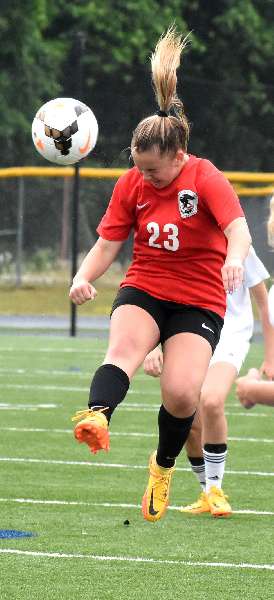 Southern Tier Sports Report
SOUTHPORT — The Soaring Capital SCSC Rebels picked up a 4-0 win over FC Dynamo on Sunday in a Thurway League game at Notre Dame High School.
Horseheads' Caitlyn Slavin had a pair of goals, one of them on a penalty kick, in the win while Elmira's Emily Klotz and Jaden O'Hara of Hornell each added goals in the win.
The team is loaded with local players from Elmira and Horseheads, and Caroline Horton of Notre Dame playing on her home turf.

The goalie was Ava Fairbrother of Horseheads and Marloe Laughlin and Liv Garvin of Horseheads and Elmira's Ava Rumsey, Kylie Stickler and Sloane Moss of Elmira are all on the team.

——
IN TOP PHOTO: Horseheads' Emma Kamas heads the ball for BCSA Rebels Red. . . PHOTOS BY BRIAN FEES.