SOUTHERN TIER SPORTS REPORT: LUTZ, DOUBLES TEAM OF AUSTIN AND PERRY HEADLINE ALL-STSR TENNIS TEAMS
(2022-06-16)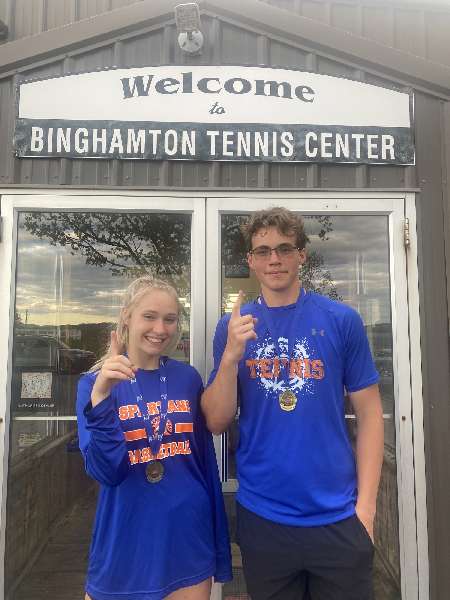 Southern Tier Sports Report
When it comes to tennis season STAC schools play girls in the Fall and boys in the Spring, while the area IAC teams played co-ed matches in the Spring.
With some schools doing co-ed our All-Southern Tier Sports Report team is a Super Seven first team and a Super Seven second team of boys and girls combined.
Headlining the team is the player of the year, Edison's Maren Lutz.
Lutz had a dominant regular season, going 9-3 in singles while playing in a co-ed league. She then teamed with Abe Johnson to win the Section 4, Class C-D Doubles Championship.
The doubles team of the year is Corning's Jillian Austin and Ella Perry. The duo went 9-4 on the season at first doubles for Corning and then made it to the state championships.
The newcomer of the year is a doubles team of Nicholas Wandell and Connor Conklin of Horseheads, who went 8-2 as a doubles team in both of their first years on varsity.
The coach of the year is Tim Ball of Corning, who helped both the Corning boys and girls teams rank among the best in the division this year.
The first team includes Perry, Austin and Lutz, along with Johnson, who was 8-4 in singles for Edison and then was the doubles champion with Lutz.
Ben Doland of Edison is on the first team, he was 9-0 in IAC matches as a third singles player this year and Nathan Sheng of Corning, who was a first-team All-STAC West all-star and was the third seed at sectionals.
Rachel Tsang of Notre Dame is on the first team after going 7-1 in second singles and finishing fourth in the IAC.
The second team features Edison's Chris Albertalli and Mason Barchet, who as a doubles team went unbeaten in first doubles in IAC matches.
Joey Veres of Horseheads is on the second team, he was 6-4 in his first year playing singles for the Blue Raiders.
Kate Welliver and Alexandra Meier of Notre Dame are both on second team. Welliver was 5-4 at third singles and took third in the IAC and Meier was 5-4 in first singles for the Crusaders, both while facing boys in a co-ed league.
Alex Peng and Ethan Winsor of Corning round out the second team. The two made first-team All-STAC West all-stars as a doubles team. Peng was 7-4 on the year and Winsor was 10-4 on the season.

TENNIS ALL-STSR TEAM
Player of the year: Maren Lutz, Edison
Doubles team of the year: Ella Perry & Jillian Austin, Corning
Newcomer of the year: Nicholas Wandell and Connor Conklin, Horseheads (8-2 in doubles as newcomers)
Coach of the year: Timothy Ball, Corning

SUPER SEVEN FIRST TEAM
Nathan Sheng, Corning (First team all star west, 5-5)
Ben Doland, Edison (9-0 in IAC as a third singles player)
Ella Perry, Corning (9-4 in doubles, made states)
Jillian Austin, Corning (9-4 in doubles, made states)
Maren Lutz, Edison (Section 4 C-D Doubles Champion, 9-3 singles)
Abe Johnson, Edison (Section 4 C-D Doubles champion, 8-4 singles)
Rachel Tsang, ND (7-1 in 2nd singles, 4th in IAC)

SUPER SEVEN SECOND TEAM
Chris Albertalli, Edison (Unbeaten at first doubles in IAC matches)
Mason Barchet, Edison (unbeaten at first doubles in IAC matches)
Joey Veres, Horseheads (6-4 in first year as a singles player)
Kate Welliver, ND (5-4, 3rd in IAC)
Alexandra Meier, ND (5-4 at first singles)
Alex Peng, Corning (First team all stac west, 7-4)
Ethan Winsor, Corning first team all stac west 10-4)


——
IN PHOTO: Edison's Maren Lutz with her doubles partner Abe Johnson. IN SECOND PHOTO: Corning's Jillian Austin and Ella Perry. . PROVIDED PHOTOS