H.S. TRACK AND FIELD: CORNING'S GREGORSKI BREAKS SECTION 4 RECORD IN 3200 AT LOUCKS INVITE
(2022-05-13)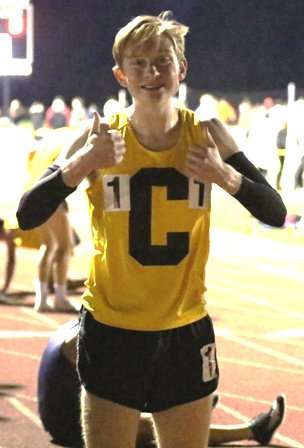 Southern Tier Sports Report
WHITE PLAINS — After breaking the indoor sectional record in the 3200 meters, Corning's Jack Gregorski knew the outdoor record was within striking distance this year.
On Friday the Hawks senior ran right past the record, running an 8:54.03 at the Loucks Invite in White Plains, N.Y.
"Jack is an impressive guy," Corning coach Joe Melanson said. "He just keeps on doing what he does and I couldn't be happier for him."
Gregorski's time broke the old Section 4 record of 8:56.02 that was set back in 2011 by Greene's Chad Noelle. Only six other sectionals in the state have ever had runners with faster times. The old record holder, Noelle, went on to win an NCAA title in the 1500 meters at Oklahoma State and ran at the 2016 Olympic Trials.
As good as Gregorski was on Friday, he just keeps getting better year after year and race after race.
"Jack is a guy, I think I have told people this before, as a freshman coach Cartwright and coach Lawson said he was going to be pretty good, and I think they hit the nail not he head as he's grown as a junior and a senior.
"The sky is the limit for Jack Gregorski."
Gregorski took third on Friday, behind Fordham Prep's Myles Hogan, who ran an 8:47.20, within five seconds of the state record, and Aidan Puffer out of Manchester, Connecticut.
Hogan and Puffer went out fast on Friday, with Puffer leading Hogan most of the way, while Gregorski sat in the front of a big pack of runners.
Gregorski was fourth after 400 meters in 1:04.91 and went out through 800 in 2:12.62 to sit fourth after 800. Gregorski was third after 1200 meters in 3:20.80.
After 1600 meters the Hawks senior sat sixth in 4:29.18, and moved up to fifth in 5:36.67 after 2000 meters.
After 2400 meters Gregorski was back up to third in 6:44.96 and he was at 7:50.47 to sit fourth after 2800 meters.
After 3000 meters he was at 8:22.14 and sat third and then he finished third in 8:54.03.
——
STSR FILE PHOTO COURTESY OF SHEILA SUTTON.