SECTION 4 TENNIS: NOTRE DAME DOUBLES TEAM STILL ALIVE FOR SPOT IN STAET QUALIFIERS (11 PHOTOS)
(2022-05-13)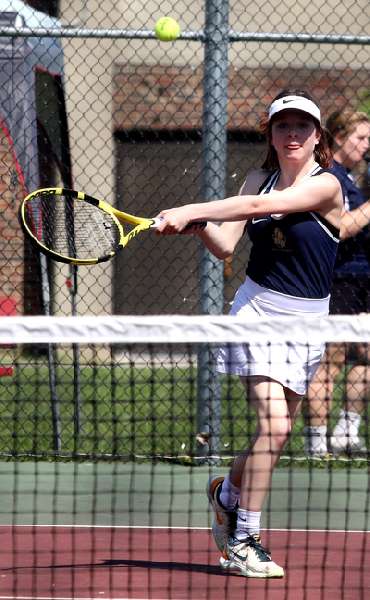 Southern Tier Sports Report
The Section 4, Class C tennis championships didn't finish before darkness last night, and tonight a pair of Crusaders look to advance to the state qualifier.
Alexandra Meier and Rachel Tsang play at 5:30 p.m. tonight in Lansing against George Fearon and Collin Park of Union Springs. The winner will advance to the state qualifier next week in Binghamton.
Meier and Tsang opened the tournament with a 6-4, 6-1 win over Ashlen Croft and Hayden Larson of Waverly and then had a 4-6, 6-1, 6-0 win over Alannah Klemann and Faye Mooney.
In other matches Jade Nordin and Emmalie Barkley fell 1-6, 6-2, 6-7 (2-7) to Aidan Maloney and Dean Licitra in doubles.
In singles Kate Welliver won 6-3, 6-1 over Watkins Glen's Matthew Andritter and then fell 6-0, 6-1 to Jake Paradisin of Trumansburg.
Divye Agrawal fell 6-2, 6-2 to Alannah Deer of Newark Valley.
——
PHOTOS BY TIM TAYLOR.