H.S. SOFTBALL: THREE PLAYERS HOMER, FOUR COMBINE ON NO-HITTER FOR CORNING
(2022-05-12)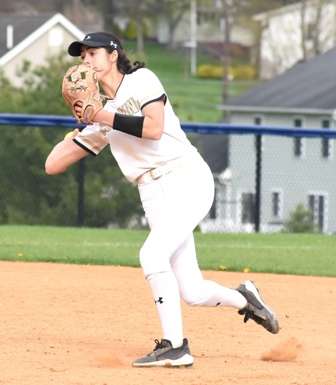 Southern Tier Sports Report
CORNING — Three players hit home runs, and four pitchers combined on a no hitter as Corning softball moved to 16-1 on the year with a 13-0 win over Ithaca in five innings.
Ellie DeRosa, Atalyia Rijo and Kellie Zoerb all hit home runs for Corning in the game.
Rij had two hits, with three RBI and two runs scored and Zoerb had two hits, three RBI and two runs scored.
DeRosa had two RBI and a run scored.
Sophia Polzella had two hits, with a triple, and scored two runs and Olivia Keegan had two hits, an RBI and two runs scored.
Austin had a double, a run scored and two RBI and Kendal Curreri had a triple, while Sadie Beres had a double, an RBI and a run scored.
Kelsey Booker and Sullivan each scored runs in the game.
Peyton Sullivan, Jillian Austin, Daphne Sherman and Anya Beres combined on the no hitter for the Hawks, striking out 13 between them.
Sullivan went two perfect innings, with five strikeouts and Austin went two innings, getting all six outs by strikeouts, and walking two.
Sherman got two outs, one by strikeout and Beres got one out, by strikeout.
The Hawks are ranked No. 3 in the Class AA state rankings, and they play Chenango Valley at 10 a.m. Saturday in the STAC semifinals at Chenango Valley. The winner plays Maine-Endwell at noon.
——
STSR FILE PHOTO