H.S. SOFTBALL: BIGELOW ESTABLISHING HERSELF AS ONE OF SECTION 4'S BEST AS ND SOFTBALL HEADS INTO IAC TITLE GAME, THEN SECTIONALS
(2022-05-12)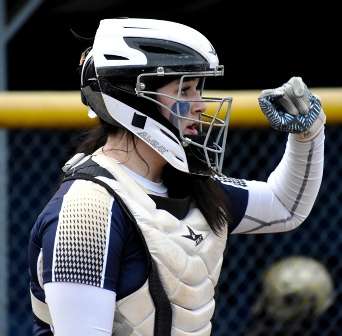 By Brian Fees
Southern Tier Sports Report
As the ball left Lawson Bigelow's bat it traveled over the fence, across the parking lot and made it's way all the way to the school.
The next time Bigelow stepped to the plate, she knew what might happen. She knew that she might be pitched around, or walked.
Such is life for one of the best sluggers in the history of the IAC as the Crusaders prepare for tonight's IAC title game at 7 p.m. at Wells College against Lansing.
Bigelow has nine home runs this year. She recently had a three-game home run streak, punctuated by the blast off the school at Notre Dame.
In the Covid shortened season a year ago Bigelow had 11 long balls, giving her 20 home runs in less than two full seasons.
All of those home runs has teams scared to death to pitch to the Crusaders slugger sometimes.
"It feels like a compliment," Bigelow said. "But, it really hurts me honestly. It's my greatest accomplishment in softball is having my bat and being able to put all my work into a game and to be able to do what I usually do.
"But, it just feels like I'm being held back from my usual game. I understand it, I get it, I do the same things in our games (as the catcher), and I totally get it."
For Bigelow the school has been a target she's taken aim at for a long time.
"It felt great," Bigelow said. "I actually made a bet with my teacher that if I break one of his window I should be able to get a 100 in his class for the year."
While she hasn't taken out windows in the school quite yet, Bigelow is just a junior with another year to accomplish that, her long home runs have struck fear in opposing teams across the IAC.
"It's a blessing and a curse at the same time," Bigelow said of the fun of the long home runs, but the tough part of being pitched round because of it. "It sucks, but it's how the game is. I've got to let them do what they do."
For Bigelow it's a lot of fun when teams do still pitch to her, like happened during the three-game home run streak.
"It felt great, I was actually really surprised they (the last game of the streak) still pitched to me and I give that pitcher props for pitching to me," Bigelow said. "A lot of people just don't and they take away my bat from me. But, she still let me have my bat."
Right now Bigelow is as hot as she's been at the plate, going 7-for-7 over the past two games, but she knows that even on days she's not hitting the ball well she has teammates that are behind her.
"I feel great," Bigelow said. "I was in a slump for a little but, but my team had my back through it and I'm finally getting back in my groove. It's just nice to be able to, when I am in a slump, be able to rely on my team like that.
"It's nice to be able to trust my team. Everyone has my back and I just feel great with my team and where we are."
Bigelow, and the Notre Dame Crusaders are excited for today's IAC title game.
"I'm very excited," she said. "I can't wait to take a title and get a win this year."
And, then it's onto sectionals for the Crusaders.
"I feel great, I feel confident in our team," Bigelow said. "I think we can do what we do and get the job done."
With 20 home runs in two seasons the Crusaders star is starting to turn a lot of eyes and beginning to get looks from colleges.
"I am and I have been doing a lot of showcases trying to get my name out there," Bigelow said.
For the Notre Dame junior the goal is to play Division I softball.
"Exactly the goal," Bigelow said. "I just want to be able to go out and represent my name and my family and this school as a Crusader, and show them what Notre Dame athletes are about."
There are some Division I schools starting to look at Bigelow, but she is hoping to hear from more schools as well.
"I have had a few looks, but I'm hoping to get a good look here soon from my top school," Bigelow said.
Getting noticed coming out of a smaller school like Notre Dame is special for Bigelow.
"Actually it's quite nice being able to be recognized and noticed makes it easier for me," Bigelow said. "It feels great, especially with all the work I put in, it feels good to be recognized."
Watching Owen Stewart on the baseball team (George Mason) and Owen Spring (St. Bonaventure) and Grant Crossley (Bellarmine) on the lacrosse team sign with Division I schools helps Bigelow see what is possible coming out of Notre Dame.
"I love seeing all my fellow classmates and athletes excelling in their sports and it gives me hope I can do the same," Bigelow said. "Knowing they can get looks here ,it gives me so much more hope to be looked at. It shows me what you really can do when you put the work in.
"Like Owen Spring and Owen Stewart, they both put all their work in their whole life and they got what they wanted and it shows me I can do the same. They are great people to look up to and I appreciate them so much."
While Bigelow may look up to some of the seniors who are signed D1, there are likely plenty of young softball players at Notre Dame now, and in the future, who will be looking up to Bigelow.
Today Bigelow is preparing for the postseason for the Crusaders, and that starts tonight with Lansing. Notre Dame enters today's game ranked fourth in the state in Class C, while Lansing is ranked 21st in the state.
——
STSR FILE PHOTO