HIGH SCHOOL SOFTBALL: BOOKER HOMERS, RIJO GETS TWO HITS AS CORNING WINS BATTLE OF STATE-RANKED TEAMS
(2022-05-11)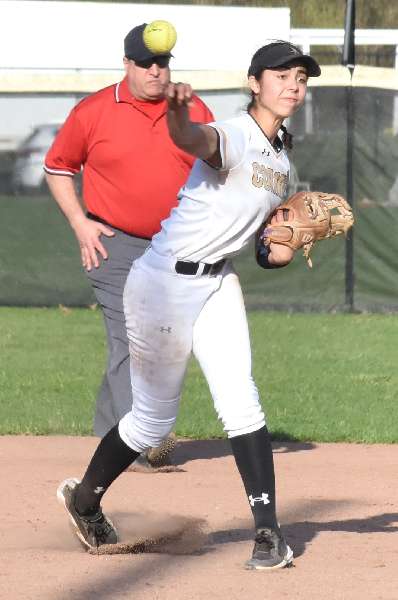 Southern Tier Sports Report
WELLSVILLE — In a battle of state ranked teams the Corning softball team picked up a 4-2 win at Wellsville on Wednesday afternoon.
The Hawks, ranked No. 3 in the state in Class AA are now 15-1 on the year, while Wellsville, the No. 3 ranked Class B team, is 14-3 on the year.
Kelsey Booker opened up the scoring with a home run and Atalyia Rijo was 2-for-3 at the plate with a double and a triple.
Corning got the home run from Booker in the second and then they got two runs in the third to lead 3-0. After Wellsville got two runs in the fifth, the Hawks came back with a run in the sixth to seal the win.
Rijo scored a run in the game for the Hawks, who had three hits in the game, all of them the three extra base hits by Rijo and Booker. Kellie Zoerb and Kendal Curreri each had RBI for Corning and Peyton Sullivan scored a run.
Sullivan threw 3 1/3 innings of two-hit, shutout ball, striking out one. Jillian Austin worked 3 2/3 innings, allowing two hits and two runs, striking out three.
Makenzie Cowburn threw a three-hitter for Wellsville, allowing four runs, two earned, striking out four. She also had a two-run home run in the game.
Corning returns home Thursday to play Ithaca at 5 p.m. on senior night.
——
STSR FILE PHOTO