ON TAP TODAY: LIGHT DAY OF LOCAL SPORTS
(2021-09-15)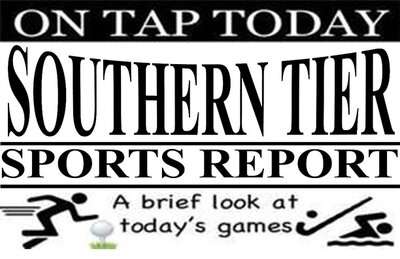 Southern Tier Sports Report
After nearly every team played yesterday, today's a light day for local sports.
With a forecast of possibly severe thunderstorms tis afternoon, Mother Nature may ultimately make the day even lighter.
Here's a look at today's schedule.
GIRLS' SOCCER
HORSHEADS AT ELMIRA, 5:30 P.M.: On Monday the Blue Raiders picked up their first win of the year, beating Corning 1-0 in overtime. Now they face another area rival as they head to Elmira. Elmira started the week with a 2-0 win over Ithaca, giving coach Zach Sarno his 150th career victory.
BOYS' GOLF
CORNING AT BINGHAMTON, 4 P.M.: The Hawks look to stay unbeaten as they hit the road for a STAC golf match.
GIRLS' TENNIS
ELMIRA AT CORNING, 4:30 P.M.: The Hawks are coming off their first loss of the season, to Ithaca, while Elmira dropped their last match to Horseheads. Elmira has been shorthanded this year.