STAC SWIMMING: MCKANE HAS RECORD-BREAKING NIGHT AS CORNING TOPS JOHNSON CITY (16 PHOTOS)
(2021-09-15)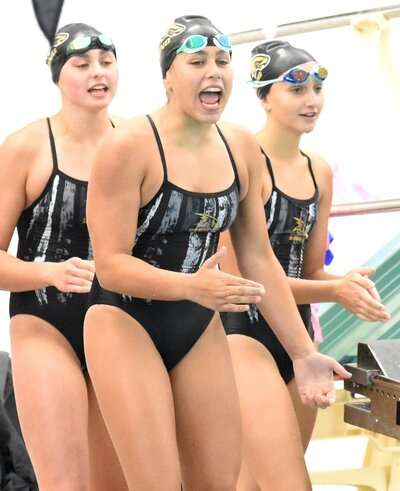 Southern Tier Sports Report
CORNING — Angie McKane had another huge day for the Corning girls' swimming and diving team.
McKane broke her own school record in the 200 free, a record that had stood since 2001. She also led off the 200 free relay with a time of 25.08, breaking the 39 year-old pool record in the 50 free, the oldest record on the Corning records board.
Corning won the meet over Johnson City 98-76.
Her record time in the 200 free relay was 1:59.95, with teammate Maddie Reynolds second in 2:31.52.
McKane, Peters, Kyra Gross and Bain won the 200 free relay in 1:52.03.
McKane won the 100 breaststroke in 1:10.44.
In the 200 medley relay Kara Peters, Camryn Hauptman, Vanessa Turner and Poppy Ruland won in 2:09.74.
Corning went 1-2 in the 200 IM with Caitlyn Bain winning in 2:43.44 and Caton Riesbeck finishing in 2:56.78, and in the 50 are the Hawks went 1-2-3. Audra Hilker won in 28.34 followed by Ruland (28.63) and Carolyn Heckle (28.78).
Brooke Terwilliger won the diving at 246.55 and in the 100 fly HIlker won in 1:13.34.
Peters won the 100 free in 59.32 and Turner won the 500 free in 5:33.51. Peters own the 100 back in 1:10.23.
Turner, Hilker, Bain and Gross won the 400 free relay in 4:11.23.
---
IN TOP PHOTOS: Corning's Angie McKane. . . PHOTOS BY BRIAN FEES