PREP BASEBALL: A BASEBALL COMEBACK STORY, EDISON'S XANDER BURCH FINDING SUCCESS ON THE MOUND AFTER NEARLY THREE YEARS AWAY
(2022-04-20)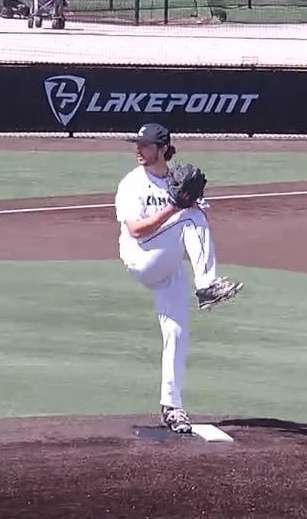 By Brian Fees
Southern Tier Sports Report
When Xander Burch got hurt he never imagined he'd be out this long.
At the time Burch was between his sophomore and junior years at Edison and he was down in Lake Point Georgia in the summer when he got hurt.
What Burch thought would keep him out a few weeks, or months, kept him out for nearly three years before he recently made his return for a prep school — The Combine Academy in North Carolina.
"I really didn't know the severity of it for a long time," Burch said. "At first I only thought it was a stress fracture in my elbow, it just kept getting prolonged, kept bothering me. It was really stressful, I didn't know what exactly was going on for a while. That made it harder. Once it hit February of 2020 I knew I had a partially torn UCL and knew it was more serious than I did at first. That's when I had to make the decision of going after surgery to mend myself."
Burch was out 760 days from August 2, 2019 until he took the mound in late March of this year for the Combine Academy when he threw three innings, striking out seven and allowing no runs on two hits.
For Burch there will always be wondering if things would have been different if he had known the severity of the injury right away, but he knows things happened for a reason.
"You always look back and wonder what would happen if you knew immediately, if things went differently," Burch said. "I don't have any regrets, life happens, you have to go with what's out there and that's what I did."
For Burch it has been a tough few years. His high school career at Edison ended, and he missed the sport he loved for so long.
"It was definitely different," he said. "I had obviously never experienced anything like that, I wasn't sure what to expect. The overall process was challenging. "Thankfully I got to school at a good time to keep my body where it needed to be.
"It definitely took a toll on my mental game. I never imagined I would take two plus years away from this game I played since I was three-years old, from a team like Edison I played on since I was 13."
Burch started playing varsity with the Spartans in eighth grade, and the team won sectionals that year.
After missing the last two years of his high school career there was always a fear for Burch he might not play the sport again.
"Of course that's always in the back of your head until you are out there again," Burch said. "Thats' some of the stuff that pushed me to get better and keep going through everything (which included the injury and trying to rehab during a time when a lot of stuff was shut down with Covid). Covid, my body not reacting how I wanted it to. Of course there are going to be hurdles and boundaries, but (baseball was) one of the things that kept me going through all if it."
When Burch was younger he had heard from prep schools, but he never thought it was something he would consider. Then, the injury came and Burch realized it might be the best path for him.
"Obviously it's hard to get recruited when you aren't playing and haven't played in a year or two years," Burch said. "Prep school was never in the plan for me coming out of high school. I'm thankfully actually. They reached out before I got hurt and I said thank you, but this isn't where I plan to be. They reached out my senior year before I played again and I said this is the right fit for me and it worked out really well."
When Burch stepped back on the mound in prep school it was an amazing moment.
"It was like no other," he said. "It was super emotional for me, I was beyond excited. The pitching aspect didn't matter to me at that point, obviously I wanted to do well, I always want to do well, but when I stepped on the field it meant more to me than baseball."
Burch made two starts this season for The Combine Academy, throwing five innings and allowing two hits with 10 strikeouts.
While his velocity isn't back fully, he knows that should come with time as he gets more starts under his belt.
"My fastball hasn't been back up, but I think that will come with me throwing more," Burch said. "My arm isn't conditioned. Before I would come back before the spring and start throwing and that's not the case anymore. I have learned to take care of my body and I have no doubt I'll surpass where I was before sometime soon."
Everything that's happened makes Burch appreciate the sport that much more than he ever did before.
"I think this injury and this time off made me think about what baseball is to me and what it meant to me," Burch said. "It can be over without knowing if it is or not. I think it makes me truly appreciate the game. Every time back out there, I'll be looking at it different than before.
"I think being through all these tough times has done nothing but made me stronger mentally. From the physical standpoint I am in the best shape of my life. I haven't been bigger and stronger. I feel good."
Burch always felt like he had a calm aspect on the mound, and with everything he's gone through he's even more calm when he pitches.
"I think I had some sort of a calm and collected part of my game before this and coming out of this makes me enjoy it more," Burch said.
The reactions of excitement have been special for Burch.
"I kind of felt it right when I stepped off the mound in my last start," Burch said. "Everyone is super excited, not only that I pitched well, it was a euphoric feeling and everyone was pumped."
And the support form back here has been special for the former Edison star.
"I can't even explain how much support I've gotten back home," Burch said. "Even coaches I haven't talked to in three years. That really has helped me throughout this journey. I can't wait to keep putting smiles on their faces and show why they supported me."
Now that he's gotten back on the mound Burch is getting ready for what's next in his career.
"I am talking to a bunch of JUCO schools in the South to Midwest Region and I'm actually playing for the Elmira Pioneers in June and I'll be looking to commit to a JUCO shortly," Burch said.
For Burch it will be special playing for the Pioneers.
"I was definitely thankful to be around the Pioneers with my uncle (Matt Burch) coaching for many years growing up there for many years," Burch said. "I grew up there for many years as a young kid and got to experience the games and the energy its things I"ll never forget."
Playing for the Pioneers will be a chance for Xander to play with his cousin, Corning star Landen Burch.
"That was always something we looked forward to whether we were 10 years old or in the future, it will be a special moment for my family," Burch said.
After everything that's happened Burch is happy to get a chance with the Pioneers this summer.
"It's relieving, it's exciting, I'm just super pumped and I've been waiting for this for a long time," Burch said.
For Burch, he had colleges looking at him since he was young, and the injury put all of that on hold.
"I had some offers from Division I schools from like Maine all the way down to I was talking to Old Dominion, where Landen is going," Burch said. "I was talking to Penn State as well and I was supposed to throw in front of Penn State, Old Dominion and Winthrop a week before I got hurt and that didn't happen."
The dream has always been college baseball for Burch and he's excited that after the injury he still has a chance to live that dream.
"It feels even more sweet and even more special now having that little comeback and getting my name out there again," Burch said. "I started talking to colleges my freshman year, I started collecting offers from schools and that had paused for a long time.
"This fall and spring getting my name back out there and reaching out with coaches was a huge relief for me it was a good moment."
Right now it's junior college, but Burch still dreams of Division I one day.
"I don't know if I plan on being at a JUCO for one or two years, whatever it takes," Burch said. "I definitely have no doubt in my mind I can play at that Division I level. I know coming out of high school that was the plan and nothing has changed for me."
And, beyond college a pro future is still part of the dream.
"That's always been the dream since I was a little kid in the back yard with Landen, I always thought of getting there," Burch said. "We will see how these next few years play out."
For now, Burch is ready for what's next, and then hopefully Division I, the same level Landen will be at as the cousins will look to keep the dream alive together.
"That makes me super excited," Burch said of the idea of one day playing at the same level in college as Landen. "I have watched him grow as well as myself and it makes me very happy. I know where we started as little kids together in our grandparents back year and I'm hoping we both play D1, possibly we can even play together at the Division I level."
——
IN TOP PHOTO: Xander Burch delivers a pitch for The Combine Academy. . . PHOTOS COURTESY OF LANDER BURCH.