FROM PRESS ROW: DESPITE THE GRADUATION OF TALENTED SENIOR CLASS, THE FUTURE LOOKS BRIGHT FOR AREA WRESTLING
(2022-03-23)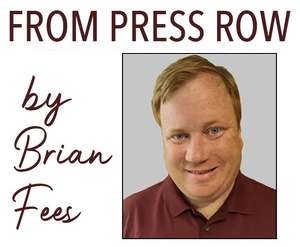 This wrestling season a number of seniors had strong seasons to end their high school careers.
From Ethan Hart bringing home a state medal, to Horseheads Gannon Johnston pinning his way through much of the regular season the senior class took center stage for much of this season.
Corning had three sectional champions, and all three were seniors — Hart, Charles Loucks and Camden McConnell, and Johnston capped his high school career with a title for Horseheads, while Tyler Keefe of Elmira also finished his career up with a sectional crown.
While it was a strong showing for seniors, that doesn't mean the cupboard is bare next season.
Horseheads returns a pair of sectional champions in Ryan Massengale (32-7) and Cael Owen (23-12).
Massengale is a two-time sectional champion and Owen won his first title this year.
The Blue Raiders also return sectional runner-up and state qualifier Liam Levantovich (24-15) and Cody Dale (25-9) who was a sectional runner-up, falling to eventual state champion Tyler Ferrara of Chenango Forks in the final.
Elmira's Drew Arnold (15-9) also returns after qualifying for states this year.
How bright is the future for area wrestling? On top of Dale and the four returning state qualifiers there are 18 other sectional place winners returning next season.
Horseheads has a strong freshman group returning with Coleton Owen, Hunter Lavigne, Lucas Mosher and Joel Scibek combining to win 63 matches this past season.
The Blue Raiders also return juniors Brian Park and William Lotocky and sophomore Jacob Bennett.
When you add the three, plus the freshman, and the returning champions and runner-ups, the Blue Raiders have a group of 11 boys' sectional place winners returning with a total of 201 wins between them.
How often can you graduate one of the best wrestlers in Section 4 and still return 200 wins to a team that won the STAC, Sectional and Section 4 Dual titles this year.
Horseheads should be right back as the favorites next year to repeat as Section 4 Duals champions and get back to the state duals.
The Elmira Express graduate Keefe, and return Arnold, and they also return a strong group of other place-winners, headed by the lone seventh grade sectional place winner among area schools in Liam Ogden, who won 15 matches this year.
Sam Brenen-Buseck was a sophomore this year, Ethan Hernandez and Alex McKerrow and J.T. Guyette was a sophomore and their five returning place winners combined for 86 wins this past season.
The Hawks graduate three sectional champions, and while it will be a challenge replacing such dominant wrestlers, they have a strong group back including an eighth-grader in Clayton Smith, who won 20 matches this year, and a sophomore returnee in Logan Bruce, who won 23 matches this year.
Smith, Dalton Webb, Bruce, Matthew Mahon, Freddie Clark, Jordan Matthews and Riley Walker give the Hawks eight returning sectional place winners, who combined to win 96 matches this past season.
Edison had two sectional qualifiers and both return next year with Cody Lucero being a sophomore this year and Joey Mastrantonio was a freshman this season.
And, let's not forget the girls. Emma Beach of Elmira, Jade Cook of Corning and Narayani Niraula of Horseheads all wrestled in the first ever sectional championships girls bracket this year, and Beach and Cook were each finalists this year.