FROM PRESS ROW: EXPECT MORE SUCCESS IN THE POOL, ON THE BOWLING LANES NEXT YEAR
(2022-03-22)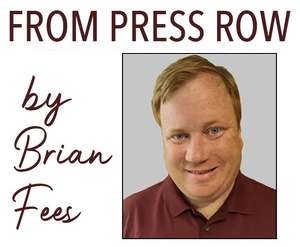 It was a successful year for area athletes in the pool and not he bowling lanes.
While there are some great seniors this year who will be heading onto the next level, there are a number of talented returning athletes who we can expect big things from next year.
SWIMMING

Let's start in the pool.
Corning's Ryan McNutt is a senior and next year he'll be competing at Penn State. The Hawks senior capped his career with a state title and a pair of top three finishes in the state.
The Hawks have had a lot of turnover the past couple of seasons, but they still have plenty of talent, including Liam Gill, the freshman who was the All-Southern Tier Sports Report Newcomer of the Year.
The team also returns diver Brenden Jardin-Reed, who was one of the top divers in the area. The freshman struggled with one of the categories and couldn't complete 11 dives, but if he had his score would have placed him fourth at sectionals. He could be a contender to make it to states next season.
Horseheads had a huge year at the state meet, with two relays earning state medals, and two individual bringing home state medals, while a pair of divers competed at states, and Elmira also had a state qualifying diver.
The Blue Raiders two divers, Aaron Verkleeren and Joshua Scibek, are both seniors, as are Emmett Hanson, a state medalist in 3 events at states, and Keagan Winkky and Andrew Schrage, who are part of relays that made states, and Winkky is the school record holder in the 100 breaststroke.
Despite losing some talented athletes the Blue Raiders return a strong group of state medalists, led by Cullin Cole.
Cole earned four state medals this year, winning individual medals in the 50 and 100 free and also earning medals as part of the 200 and 400 free relays.
Alexander Villegas was also part of that 400 free relay, that broke the school record, and he'll return for Horseheads.
Shoonfon Li made states in the 200 IM and the 200 medley relay and he'll return and the team also returns another senior in Aidan Schooley.
The team also has some strong younger swimmers like Kegan Monohan, Devin Sullivan and Kiran Gulati back.
Elmira graduates one of their best swimmers in Jacob Rose, but their talented diver Creed Hackett returns.
Hackett was the highest finisher of any local diver at states and he should be in the hunt for a state medal next year.
BOWLING
There were co-bowlers of the year on both the boys and girls side this year, and three of the four return next season.
For the boys, both Cameron Kennedy (sophomore) and Joseph Enderle (junior) return for the Hawks next year.
With Phillip Borden (junior) who also got experience at states back as well the team will be looking to find a couple more starters to help them get back to the state meet.
Both Kennedy and Enderle were among the top 10 individuals in the team competition at states, with Kennedy finishing third, and they could be in the hunt for individual state titles next year as well.
On the girls side Emily Huntley is back for Horseheads after having a huge postseason this year.
Huntley had a dominant postseason and was named the co-bowler of the year for the STSR and she'll be back after taking ninth at the state meet in the individual competition.
Huntley should be a contender for a state title next year, and could be the best in Section 4.
The Blue Raiders also return newcomer of the year Michael Rennells on the boys side. The boys return both Rennells and Ayden Tito, who were both all-stars this year, along with Andrew Bauman, who had the best series of any Horseheads boys bowler at the state qualifier.
The girls return Jennifer Mattison, who was an all-star this year, along with fellow all-star Mackenzie Minor and sophomore Maddie Jerzak and they could be a strong team next season.
The Elmira boys and girls both had strong seasons and they have a good group of returning bowlers next year, led by girls' newcomer of the year Madison Smith, who is just an eighth grader. Smith was 11th at the state qualifier this year and should have a chance to be a state medalist for many years to come.
The Edison bowling teams were led by Zack Crown who had a strong year for the Spartans this year. He will return and look for big things next year after just missing states this year.
Notre Dame returns a strong group on both the boys and girls side with Connor Ryan and Maddie Gleason leading the Crusaders in average this year, and both are just sophomores. Ashton Colunio and Jade Nordin also had big years for Notre Dame and return next year.