FROM PRESS ROW: COLE'S FOUR STATE MEDALS HIGHLIGHTS GREAT WEEKEND FOR HORSEHEADS, ELMIRA, ND ATHLETES
(2022-03-08)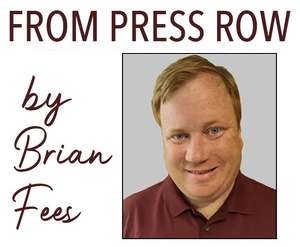 It was a magical weekend in local sports, and it wasn't just what Corning did in winning state and sectional titles.
From Horseheads' Cullin Cole winning four state medals, to 10 Horseheads, Elmira and Notre Dame athletes competing at state track and field, it was a magical weekend throughout the area in sports.
While Corning had three state champions and two basketball teams winning sectional titles, we don't want to let that overshadow the amazing weekend for athletes from throughout the area.
Cole had one of the most impressive state meets by a local athlete in recent history.
Cole won state medals in the 50 and 100 free and he also helped the 200 and 400 free relay teams bring home state medals.
Just take a look at Cole's weekend. Fourth place in public school in the 50 free in 21.31. In the prelims he broke a school record that had stood since 1986, then he broke it again in the final.
He was fifth place in public school in the 100 free in 46.87 and he was part of the 200 free relay that took fourth-place in public school in 1:27.67 with a team of Cole, Emmett Hanson, Shoonfon Li and Andrew Schrage.
Cole, Hanson, Li and Alexander Villegas were sixth in public school in the 400 free relay in 3:13.70. In the prelims they broke a school record that had stood since 1986, and was a relay that their current coach Eric Winkky was a part of. They re-broke the record in the final.
Horseheads' Emmett Hanson also earned a state medal in the 100 free, moving from the B final to finish eighth overall in public schools in 47.04.
The school finished sixth at the state meet, the best finish by a Horseheads team in school history and Hanson won the Section 4 Sportsmanship Award.
Keagen Winkyy broke the school record in the 100 breaststroke in the prelims, a record that had stood since 1991. Li swam the 200 IM at states, finishing 14th and Winkky, Schrage, Li and Hanson took 16th in the 200 medley relay.
Two Horseheads athletes, Aaron Verkleeren and Josh Scibek and Elmira's Creed Hackett all competed in diving at the state meet.
While Hanson, Winkky and Schrage are seniors, along with divers Verkleeren and Scibek, the Blue Raiders return Villegas and Li along with Cole, who has established himself as one of the best swimmers in the state. Hackett also will return next year for Elmira.
In track and field there were a total of 10 athletes, between Horseheads, Elmira and Notre Dame at the state meet.
Ana Mordvinova had a top-10 finish overall for the Express at the meet in the 1000 with a time of 2:56.80 to finish ninth overall.
Mordvinova also teamed with Notre Dame's Amanda and Rachael Simpson in a four-person intersectional distance medley relay that took eighth in 10:44.68. Amanda ran the 200 meter leg in just under 27 seconds and Rachael ran the 600 leg in 1:44.00.
Elmira's Cal marks finished in 24th at 48-feet, 8 1/2-inches in the weight throw.
For Horseheads Tess Eisner was 15th in the triple jump and Bella Cipolla took 25th in the long jump. Ace Andrus was 15th in the 1000 meters and Axl Andrus took ninth as part of the intersectional relay for Section 4.
Notre Dame's Tyler Simpson had a PR of 1:27.02 in the 600 and Makenna Keough took 26th in the long jump.
For Notre Dame you had three siblings, they are part of a set of quadruplets, all at states with Rachael, Amanda and Tyler.
"It was great to see Amanda, Rachael and Tyler finish out their indoor track careers on a high note," Notre Dame coach Brett Shelton said.
Also, let's not overlook the Elmira basketball teams in defeat.
While their seasons ended, they were special years. The Elmira girls won the division title and captured the STAC Championship this year. The boys went from 2-7 on the year to winning seven of the next eight games and making the sectional final.
It was a strong season for both Express teams, with talented seniors finishing their careers.
The Elmira girls watched as Megan Fedor, Lauren Miller, Amarionah Dixon and Khamiah Inman wrapped up their careers. Fedor, Miller and Inman were all key starters for the Express and Dixon was one of the best sixth players you'll find in the state.
The Elmira boys had five senior starters to end the season as Anthony Brooks, Xavier Jones, Seth Myles, Mikey Middaugh and Tyler Marks all capped their high school basketball career in the sectional final.
This winter was as successful as any we've seen in a long time. Between Corning's state titles, and Cole's four state medal day. With all the hoops performances, and all the state qualifiers in every sport, it was a season to remember, and now we head into the spring as we look to see what's next.