STAC BOYS' BASKETBALL: WOODWARD'S CLUTCH FREE THROWS HELP ELMIRA BOYS HOLD OFF HORSEHEADS
(2022-01-20)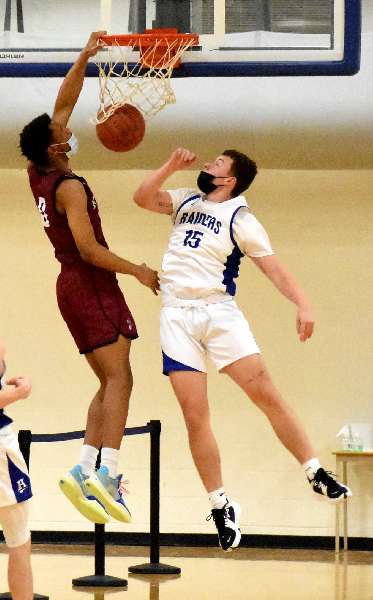 Southern Tier Sports Report
ELMIRA — The last time the Elmira Express faced Horseheads they took a 20-point lead, before watching the Blue Raiders come back to win.
The Express have been in a lot of close games this year, but the challenge has been making free throws and closing out those wins.
On Wednesday the Express were clutch from the free throw line, as they edge Horseheads 52-50.
"Made some free throws down the stretch and played good defense," Elmira coach Ryan Johnson said. "Nice to get a close one finally. Proud of the boys."
The first half was back and forth, with Horseheads leading 11-10 after one quarter, and Elmira outscoring the Blue Raiders 14-11 in the second to lead 24-22 at the half.
Horseheads tied the game after three quarters, but in the fourth Chris Woodward made 7-of-8 free throws to help Elmira come away with the victory.
Seth Myles led Elmira with 12 points, scoring eight in the first half.
Woodward had eight points, going 8-for-10 from the foul line in the game.
Mikey Middaugh and Tyler Marks each had seven points for Elmira and Da'mon Jackson and Tyre Daniel finished with six points each in the game. Daniel's points came on a pair of threes.
Kobe Thomas had four points for Elmira and Anthony Brooks finished with two points.
Jeremy Truax led Horseheads with 20 points. He had four threes, two in the fourth quarter to help Horseheads try and come away with the win.
Truax had 13 second-half points, including three threes and 4-for-6 shooting from the free throw line in the second half.
Amauri Truax finished with 12 points. He was 8-for-8 from the free throw line, including 6-for-6 in the second quarter.
Jackson Cook and Pat Carpenter each had seven points for Horseheads and Alex Daugherty had four points. Cook had two threes in the game.
——
STSR FILE PHOTO