ON TAP TODAY: SECTION 4 WRESTLING DUALS, BUSY DAY OF BASKETBALL HIGHLIGHT BIG DAY OF LOCAL SPORTS
(2022-01-19)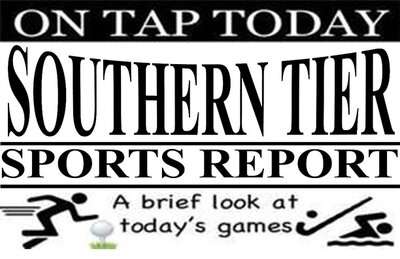 Southern Tier Sports Report
It's a busy night of local sports with 12 events on the schedule, including the Section 4 Wrestling Duals at Horseheads.
Mother Nature pushed a couple of games back from Tuesday to today making the day even more busy.
Here's a look at what's on the schedule today.
WRESTLINGCorning, Horseheads at Section 4 Duals, 5 p.m.
(At Horseheads)
The Corning Hawks are the fourth seed and they take on top seed Horseheads at 5 p.m. in the semifinals of Division I at Horseheads High School.
The other semifinal is No. 2 Chenango Forks against No. 3 Vestal. The final is at 7 p.m.
Ticket prices are $6 for adults and students and $4 for seniors.

Marathon at Edison, 6 p.m.
The Spartans host their second dual meet of the season.
Elmira at Ithaca, 6:30 p.m.
While Elmira, Corning and Horseheads have all wrestled each other, it's the first time any of the three have faced Ithaca in a STAC West matchup.
BOYS' BASKETBALL
Horseheads at Elmira, 7:15 p.m.
The last time the two teams played it was an instant classic as Horseheads rallied from 20 down to top Elmira in a thriller. Now the two teams meet in Elmira.
Edison at Notre Dame, 7:30 p.m.
The Spartans picked up their first win of the year last week and Notre Dame played a strong game in defeat against a AA school in Horseheads.
Ithaca at Corning, 7:15 p.m.
The Hawks are unbeaten at 9-0 on the year and ranked 17th in the state as they welcome the Little Red for a STAC matchup.
GIRLS' BASKETBALL
Elmira at Horseheads, 7:30 p.m.:
The Blue Raiders are ranked 22nd in the state and Elmira is ranked 23rd in the state in Class AA. The last time the two teams met, just two weeks ago, Horseheads got the win.
Notre Dame at Edison, 7:30 p.m.
The Spartans enter the game on a seven-game win streak.
BOWLING
Corning at Binghamton, 3:40 p.m.
The Hawks hit the road to Binghamton for a STAC matchup.
Horseheads at Vestal, 3:40 p.m.
The Blue Raiders take to the road for a STAC matchup.
Johnson City at Elmira, 3:40 p.m.
It's senior night for the Express at Dixie Lanes.
Notre Dame at Union-Springs/Port Byron, 4 p.m.
The Crusaders hit the road for an IAC matchup.