COLLEGE BASKETBALL: MOFFE MAKING THE MOST OF HIS FINAL SEASON AT THE CITADEL
(2022-01-17)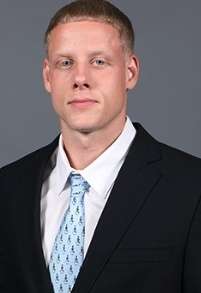 By Brian Fees
Southern Tier Sports Report
In life you have to do with difficult situations.
The sign of a true champion is making the most of those tough times.
That's exactly what Elmira graduate Tyler Moffe has done throughout the past seven years.
He was put in a number of difficult situations and here he is, starting for a Division I team about to get his MBA this May.
Everything started for Moffe at Elmira High School where he graduated as the school's all-time leading scorer. He averaged 20 points a game his senior year and made the all-state team.
After that, Moffe ended up walking on at Buffalo. He left Buffalo after a year and went to Jamestown Community College, where he started 29 games and averaged 14.2 points a game. Then, Moffe spent three years as a Mansfield University, starting 60 games and averaging 12.3 points a game over those three seasons.
Injuries cut short his 2019-20 season after just seven games. As a grad transfer Moffe headed to The Citadel.
"It's something that motivates me everyday," Moffe said. "I started my career as a walk-on. Literally no one on the country wanted me. A lot of hard work and persistence. Every day I wake up with a chip on my shoulder. Thank God the coaches believed in me and put me in this position. They changed my life. It's definitely a blessing."
EDUCATION FIRST
As tough as things were last season with Covid it gave Moffe a chance to come back for one last season. He's the rare athlete who has a seventh season playing college basketball.
"Honestly this sounds bad, me being a red-shirt for two years and the Covid year, it's a blessing for me it gives me an opportunity get my masters paid for," Moffe said. "The Covid year gave me another year, in reality it's a blessing.
"It was a perfect opportunity, another chance to further my education. Covid is a bad thing, I don't wish it on anybody, but the Covid year gave me an opportunity to pursue a masters."
Moffe already was one of the first in his family to graduate from college, and now he will have his Masters finished up in May.
"At the end of the day basketball is a game, it's going to come and go," Moffe said. "I love it, it's taken me places I've never imagined. Coming out of Elmira a lot of kids don't get that opportunity. Probably, my biggest achievement ever was graduating college. It made my family and my mother proud."
And, now getting a chance to get a Masters is something truly special for Moffe.
"It's a huge deal," Moffe said. "My mom preached education over basketball. That's going to be a special moment for her knowing her son got a Masters. It's very special. It's a game, at some point in my life the basketball is going to stop dribbling, even if I play professionally."
A YEAR FULL OF MEMORIES
This season has been a special one for Moffe and The Citadel men's basketball team.
One of the most memorable moments of the season came in the season opener when The Citadel went to Pittsburgh and beat the ACC team 78-63.
"It's been a lot of fun," Moffe said of the season. "We beat an ACC school, at the same time, it's a grind. The Southern Conference is one of the best Mid-Major basketball conferences. It's been a lot of fun."
"It was a special experience (winning at Pitt). Especially with my high school coach (Elmira coach Ryan Johnson) being there. Obviously with a game like that, everybody counts you out. We know what we are capable of. Going to Pitt and beating them at their place, it definitely was a great moment."
The season also included a trip to Cameron Indoor to play against Duke. While Duke won the game, The Citadel had some magical moments, including setting a record for the most three-pointers made by an opponent at Cameron Indoor. And, Moffe had a season-high of seven assists in the game.
"Obviously you want to get the win, that's why we took the game," Moffe said. "But, there were a lot of positives taking away from that game. We set records for most threes at Cameron Indoor ever. They are a very good basketball team, a lot of positives we took from that game. At the same time a lot of things we had to work on."
It was a special moment to for Moffe as he had Johnson there to watch him play at Duke.
"I love that guy," Moffe said. "When everybody didn't believe in me, he's the one guy that always believed in me. I'll always remember that moment seeing him after that game, it was a really special moment for me and I hope for him as well to."
Growing up Moffe dreamed of moments like the games at Pitt and Duke.
"I always dreamed it as a kid," Moffe said. "It took a lot of hard work and persistence to get to that level. I can't tell you the amount of time and hours it took to get to this point. As a little kid I always dreamed of playing there. I always saw it in my future."
MOFFE HEATING UP
In recent games Moffe is having some of his beast performances of the season.
He has had 10 or more points in three of the past four games. He had a season-high 19 against Western Carolina four games ago and two games later he had 18 against UNC Greensboro, before netting 11 points in their last game against VMI.
"It's been good," Moffe said of the recent scoring surge. "Before that I was kind of in a shooting slump. It happens to everybody. It was bound to happen. I've had some bad games this year, you can complain about it, or get back in the gym. That's what I did. Things are going well, I'm playing a lot better. I want to win games and help my team win games and that's about it."
The Citadel dropped the game to VMI and are one game under .500 this year, but Moffe knows this team is capable of playing with anyone.
"We are a good team," Moffe said. "Every Southern Conference team in the league is good as well. There are no easy wins in this conference. Every game is a grind. If we play Citadel basketball the way we are supposed to play we can beat anyone in the conference, or the country, I believe."
The win over UNC Greensboro was a big one. They snapped a 16-game losing streak to the team, and they rallied from a 15-point halftime deficit to get the win.
"That was a big win for us," Moffe said. "In the first half we didn't play well, we talked in the locker room and had to come out the second half and play Citadel basketball. We are a hard team to beat, we just got to make sure we are doing that every night."
One thing that makes things so tough is playing in a good mid-major conference where the teams are loaded with experienced athletes.
"That's for sure, there are a lot of guys that they might have come in as a freshman and developed over the years," Moffe said. "That's definitely a big thing and you see it every night. Every team in the conference has a really good senior. A lot of teams are very experienced. Players in these programs have been playing together for years.
"This group we have now (at The Citadel), me and Hayden (Brown), we had our Covid year. We came back and played another year. We came off a year last year we had a winning record for the first time at The Citadel in 20 years. We started off beating an ACC school. Our team is very well connected. We are really excited for what the future holds for us."
For Moffe, that's what matters most, winning games.
"At the end of the day, I want to win," Moffe said. "I don't care how it looks. I just want to win basketball games. That's what matters most to me. I want to win and help the coaches anyway I can."
A CRAZY JOURNEY FROM ELMIRA TO THE CITADEL
For Moffe, The Citadel is his first time playing basketball more than a few hours from Elmira.
"I love it, The Citadel is in Charleston, South Carolina," Moffe said. "I love the city. When I first got down here from New York, it was a 14-hour trip, and everyone was so welcoming. When I got here it was a big thing for me, I felt loved and welcomed when I stepped on campus."
The weather in South Carolina during basketball season is a little different than what Moffe experienced growing up in Elmira.
While the Elmira area had negative degree temperatures this week, and a snow storm on Sunday night, Moffe had things a bit different where he was this week.
"Right now, I'm sitting on the porch, it's 60 degrees," he said. "I went up there for Christmas to visit and I was ready to leave in three days when I saw the snow. The weather here is beautiful."
While Moffe had stops at Buffalo and Jamestown Community College, he started at Elmira and then spent three years at Mansfield before arriving at The Citadel.
"I will always have love for Elmira," Moffe said. "That's where I'm from. I wouldn't be in this position without Elmira. Same thing with Mansfield. I had a decent career there it and set me up for the future. Coach John (Szentesy) has them headed in the right direction. I think they have some positive things in store for them. I have love for both of them."
Few college players have the kind of experience under their belts that Moffe does.
"I have had a lot of college basketball under my belt for sure," Moffe said. "That's why you don't panic when you are in a slump. That wasn't going to last. We were down the first half, but I didn't panic. Nobody panicked. We came out and we executed. That's my experience and some of my other teammates experience."
It's been a winding journey to get to this point for Moffe.
"It's been crazy," Moffe said. "I started my career as a walk-on. I went to Juco. Juco is a grind, there are time we were showering with a hot bucket of water. I met really good people over the years. I made friendships that last forever. Everybody's journey is different and I'm grateful for it."
LOOKING TOWARD THE FUTURE
With the journey Moffe has taken to get to this point, he's met a lot of people and made a lot of relationships that could help him in the future.
"I have made so many friends," Moffe said. "People I met back in Juco I still talk to on a regular basis. I met a lot of people over the years. I"m thankful to meet all the people and coaches I have worked with. The world today is about connections, and I've made a lot of friendships over the years that will only help me in the future."
While his college career is nearing an end, Moffe would consider opportunities to play professionally.
"If it's there and it feels right and it's the right thing to do at the end of the day," Moffe said. "I finished with a business administration degree and I'll get my masters degree in leadership. If it sounds right (pro basketball) and is the right path for me to go, then absolutely."
If he doesn't end up playing professionally Moffe knows he will have his undergraduate and masters degree to give him chances at jobs in the future.
"At the end of the day I'll get a good job and I've got my degree."
Moffe has had a lot of great coaches over the years, and he isn't ruling out one day coaching, but he knows how hard that can be.
"It's a possibility," Moffe said. "I really think I'd get frustrated. I know coaching is a hard job. It's a stressful job. If it sounds right I think it's something I can do in the future. I think I know the game of basketball well and I think it could be a possibility."
Moffe hopes that kids in Elmira see the journey he's gone on over the years. He hopes they see him playing at Pitt and Duke and realize all of this is possible with hard work.
"I hope so," he said. A lot of them, they don't come from much. I want them to know anything is possible. They've got to keep chasing their dreams. It isn't easy sometimes. It isn't fun, there are a lot of hours put in and a lot of hard work.
"I was in the same shoes as everyone there. I was at Elmira High School. I played my career there. I never quit. Kept saying it all goes back to hard work. At the end of the day you've got to work hard. I hope it motivates the kids back home. I'd love to see someone do it bigger and better than me."
——
PHOTO COURTESY OF THE CITADEL ATHLETICS