COLLEGE WOMEN'S BASKETBALL: ELMIRA COLLEGE WOMEN FALL TO NO. 25 FISHER (24 PHOTOS)
(2022-01-15)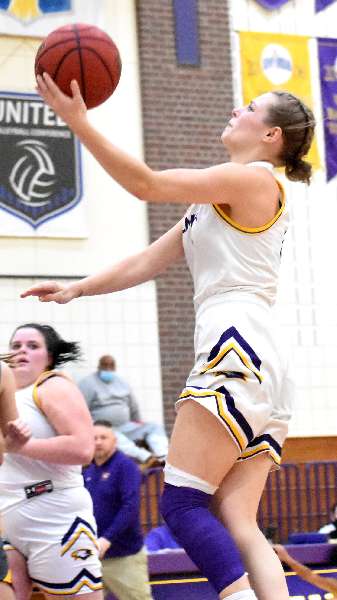 Courtesy of Elmira Athletics

ELMIRA – The Elmira College women's basketball team suffered a 73-46 setback to the Cardinals from St. John Fisher College inside Speidel Gymnasium on Saturday afternoon.
After trailing 47-11 at halftime, the Soaring Eagles outscored the opposition 34-26 in the second half as Alyssa Waters '22 finished the game with 14 points.
JUST THE BASICS:Location:
Elmira, New York | Speidel Gymnasium
Score:
Elmira: 46, St. John Fisher: 73
Records:
Elmira: (6-7, 1-4 Empire 8), St. John Fisher(12-1, 4-1 Empire 8)

HOW IT HAPPENED:
After Taylor Albrecht '22 scored the opening bucket for the Soaring Eagles, St. John Fisher concluded the opening quarter on a 31-3 run as Elmira was able to score just one additional bucket in the quarter. 11 turnovers in the quarter sparked the Cardinal run, as Miranda Lynch posted a 10-point first quarter for Fisher.
In the second, Elmira was held to just six points (all free throws) while Fisher increased its field goal percentage to 42.6% for the game (16-of-38). Albrecht, Waters, and Victoria Rought '24 each recorded points in the quarter for the Soaring Eagles.
In the second half, Elmira adjusted on the defensive end while making the most out of its offensive possessions, outscoring the Cardinals 19-9 in the period while shooting 44.4% from the floor (8-of-18).
In the fourth, the Soaring Eagles were outscored by just a pair (17-15) while limiting its number of turnovers. The Soaring Eagles, in all, were able to force 23 Fisher turnovers.
ELMIRA LEADERS (15-of-60, 25.0 percent from the field)
Alyssa Waters – 14 points, 2 rebounds, 2 assists, 4 steals
Taylor Albrecht – 12 points, 3 rebounds
Desiree Roy '25 – 7 points, 10 rebounds
FISHER LEADERS (23-of-68, 33.8 percent from the field)
Kaitlyn Walker – 16 points, 11 rebounds
Miranda Lynch – 13 points, 3 rebounds, 1 assist
UP NEXT:
The Soaring Eagles return to action on Friday, January 21, as they head to Hartwick for a matchup with the Hawks. Tip is set for 5:30 PM in Oneonta.
----
PHOTOS BY BRIAN FEES