STAC SWIMMING & DIVING: LOCALS SHINE AT ELMIRA INVITATIONAL, HORSEHEADS WINS CLASS A DIVISION (24 PHOTOS)
(2022-01-15)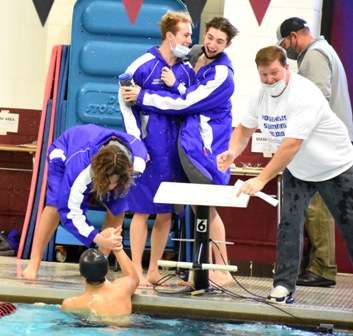 Southern Tier Sports Report
ELMIRA — The Horseheads boys' swimming and diving team won the Class A division at the Elmira Swimming and Diving Invitational on Saturday.
Horseheads finished with 387 points, Corning was second at 235 and Elmira took fifth at 137. For Class B Maine-Endwell won at 500 and Chenango Forks won the Class C Division at 447.
It was another record-setting day for local athletes. One day after Horseheads had two divers — Aaron Verkleeren and Joshua Scibek hit the state standard in diving, the Blue Raiders had more state qualifiers on Saturday. Elmira's Creed Hackett also made states in diving on Friday.
Horseheads hit the state standard in the 200 medley relay as Li Shoonfon, Andrew Schrage, Keagen Winkky and Cullin Cole won in 1:40.61.
Emmett Hanson again hit the state standard in the 200 free, with a new PR of 1:46.44 to get the win. Teammate Alexander Villegas finished third in 1:55.59. Aiden Spoors of Corning was sixth in 2:01.97 and Andrew Degnan of Elmira was 10th at 2:05.26.
In the 200 IM Corning's Ryan Kang was seventh in 2:21.29 followed by teammate Alex Peng in 2:22.87.
Corning's Ryan McNutt and Cole had a battle int he 50 free, with McNutt winning in 21.43 and Cole taking second in 21.84. Both were well under the state standard.
Wesley Taft of Elmira took third in the event in 23.41 and Horseheads' Winkky was seventh in 24.13 while Schrage finished ninth in 24.24.
Li Shoonfon of Horseheads won the 100 fly with a personal best of 54.47. Shoonfon was the swimming in lane six as the sixth seed in the final heat and he dropped nearly three seconds off his seed time to win.
Elmira's Jacob Rose finished third in 55.41 and Schrage was ninth in 1:00.64.
Corning's McNutt broke the pool record in winning the 100 free. His time of 46.49 broke the 2013 record held by Ithaca's Ryan Nicholson of 46.54. He was more than two seconds under the state qualifying time.
Cole was runner-up in 48.23, which was also well below the state standard. Elmira's Degnan finished eighth in 53.87.
Hanson won the 500 free in 5:00.69 while teammate Villegas was third in 5:26.89 and Aiden Spoors of Corning finished fourth in 5:30.56 ,while Horseheads' Andrew Wood was fifth in 5:34.98.
Horseheads hit the state time in the 200 free relay, winning in 1:29.97 with a team of Cole, Villegas, Hanson and Shoonfon. Corning's McNutt, Aidan Wilken, Nishant Lahiri and Spoors took fourth in 1:35.44.
In the 100 backstroke Shoonfon won in 55.68 with Rose third in 59.93. Horseheads' Bryson Wood finished fifth in 1:02.18.
Winkky was third in the 100 breaststroke in 1:02.76 and Taft finished 10th in 1:09.27.
Horseheads' Schrage, Winkky, Villegas and Hanson won the 400 free relay in 3:26.37. Corning's Spoors, Peng, Kang and McNutt took third in 3:33.13 and Taft, Degnan, Hackett and Rose took fourth in 3:34.61.
——
IN TOP PHOTO: Horseheads' Li Shoonfon is congratulated after winning the 100 fly on Saturday. . . PHOTOS BY BRIAN FEES