STAC GIRLS' BASKETBALL: CORNING BOUNCES BACK WITH VICTORY OVER NORWICH
(2022-01-14)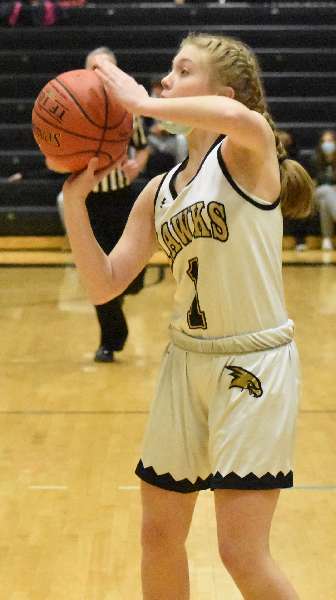 Southern Tier Sports Report
CORNING — Coming off just their second loss of the season, the Corning Hawks bounced back in a big way Friday, topping Norwich 61-53.
The Hawks were coming off a loss at Elmira earlier in the week, falling behind early in that game.
This time Corning got off to a fast start, leading 40-25 at the half on the way to the win.
"Great team win with everyone contributing," Corning coach Jamie Nichols said. "Got out to a great start and led 40-25 at the half. Kids played hard and proud of every one of them.
"Shots didn't fall as much in the second half. Norwich is a great team and battled back in the second half, but we managed to get some timely buckets."
Corning led 18-9 after one quarter on their way to the win.
Lexi Lapierre had six points in the fourth quarter to help Corning seal the win and Hannah Nichols had a big three in the fourth.
Jenna DiNardo led Corning with 15 points, on five threes, all of them in the second and third quarters.
Lapierre finished with 14 points in the game and Kellie Zoerb had 13 points for the Hawks.
Jayda Felker finished with eight points for Corning and Nichols had six points, while Alyssa Dobson had five points, all five of them coming in the opening quarter.
Madelyn Morris led Norwich with 16 points and Margaret Dougher had 13 points. Emily Evans and Mackenzie Hess had 11 points each in the game.
—
STSR FILE PHOTO