COLLEGE HOCKEY: BEECHER SCORES IN BOTH GAMES AS MICHIGAN SWEEPS DEFENDING NATIONAL CHAMPION UMASS
(2022-01-13)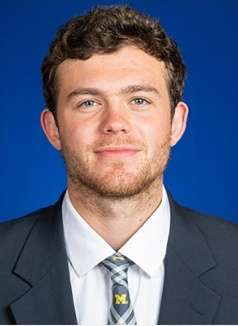 Southern Tier Sports Report
Elmira's Johnny Beecher had goals in both games as the Michigan hockey team swept defending national champion UMass.
Michigan, which is 16-6-1 on the year, won 4-1 and 4-2 over UMass.
Beecher had a short-handed goal to cap the scoring in the final minute of the first game and he also had a third-period goal in the second game.
Beecher, who is from Elmira, has four goals and two assists for six points, on 29 shots, in 15 games this year.
Michigan is ranked fourth nationally and they host Penn State on Friday and Saturday.
Beecher was the 30th pick in the 2019 draft by the Boston Bruins.
The Michigan team is loaded with first-round picks as four of the top five picks in this past year's draft play for Michigan. Owen Powers was the No. 1 pick by the Buffalo Sabres, and is the first No. 1 pick to go back to college. No. 2 pick Matty Beniers, No. 4 pick Luke Hughes and No. 5 pick Kent Johnson are all on the team, along with No. 21 pick Mackie Samoskevich.
Brendan Brisson was the 29th pick in 2020 and Eric Ciccolini was No. 25 in 2019. Thomas Bordeleau was a second-round pick, No. 38, in 2020 and the team also has three players who were fourth and fifth round picks on the team.
——
IN PHOTO: Johnny Beecher. . . PHOTO COURTESY OF MICHIGAN ATHLETICS